ENSCO is recognized around the world as a leader in the supply of track evaluation systems. The track measurement systems are based on a modular approach and scalable architecture to support a variety of measurement and imaging systems on a track recording vehicle. The track inspection systems can be built into a new custom track inspection vehicle in cooperation with U.S. and European manufacturers, or retrofitted into an existing vehicle.
Track Geometry Measurement System (TGMS)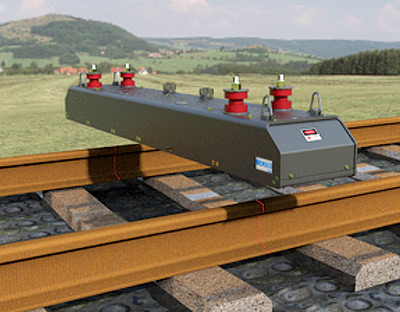 The Track Geometry Measurement System (TGMS) provides accurate and reliable track data for immediate and long-term maintenance planning. The system can be installed on virtually any rail bound vehicle and provides all the data necessary for the optimum management of track assets. Using ENSCO's laser measuring system, track measurements can be made in all weather conditions. Results are provided in real-time stripcharts and exception reports.
Rail Profile Measurement System (RPMS)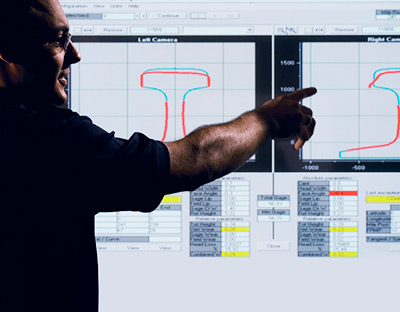 The ENSCO transverse Rail Profile Measurement System (RPMS) is a high-performance system that can measure transverse rail profile, rail wear, and rail cant in real time at a one-foot sample rate up to the maximum speed of the car. Parameters such as rail wear and cant can be displayed alongside track geometry data in real time. The system also detects rail cant and rail wear exceptions in real time. The ENSCO rail profile system has a very high rate of successful automatic rail size recognition, minimizing the need for rail profile post processing.
Third-rail (Power Rail) Measurement System (TRMS)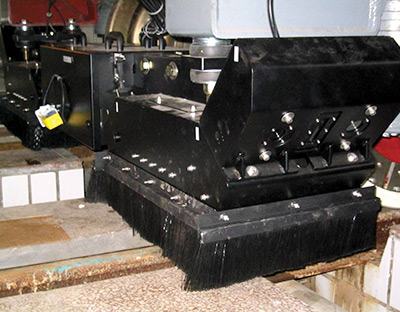 Non-contact optical imaging technology provides measurement of third-rail (power rail) gage and third-rail height. Accurately knowing the position of the third rail can significantly reduce the risk of damaging equipment or compromising safety. ENSCO is currently the only provider of this service in the United States and can perform third rail measurements simultaneously with track geometry and rail profile testing services.
Deployable Gage Restraint Measurement System (D-GRMS)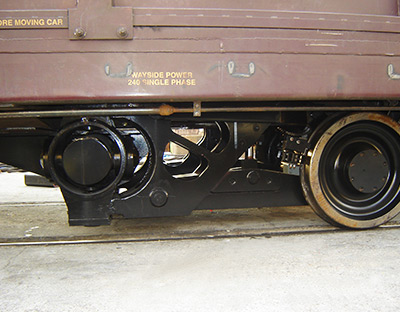 The ENSCO Deployable-GRMS conducts performance-based testing of railway track strength, locating degraded ties and weak connections for timely repairs. The D-GRMS is based on research sponsored by the FRA and ENSCO internal research and development. A D-GRMS vehicle meets the Federal Railroad Administration (FRA) alternative standard for tie inspection.
Ride Quality Measurement System (RQMS)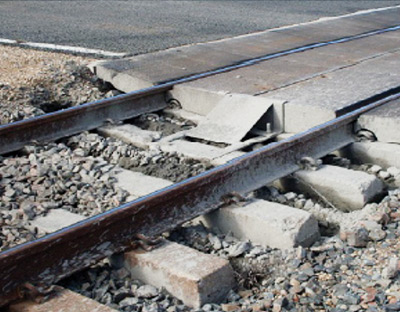 The ENSCO Ride Quality Measurement System (RQMS) provides invaluable complementary track condition data in addition to track geometry. Carbody, suspension and wheel acceleration data can be integrated into the track geometry data stream for review with the other measurement systems. Using our advanced signal processing algorithms, sensors can locate rough ride locations, battered joints, engine burns, crushed rail heads, etc.
Rail Corrugation Measurement System (RCMS)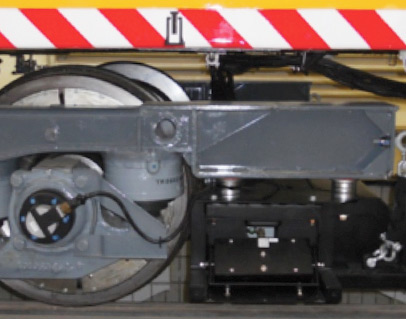 ENSCO's highly accurate laser-based Rail Corrugation Measurement System (RCMS) evaluates corrugation over four critical wavelength bands. The host computer calculates the irregularities and reports locations where the corrugation exceeds predefined thresholds. The system provides rail quality assessments on a section-by-section basis to facilitate rail grinding and replacement planning.