Back to All Press Releases
FOR IMMEDIATE RELEASE:
Reston, VA, November 17, 2023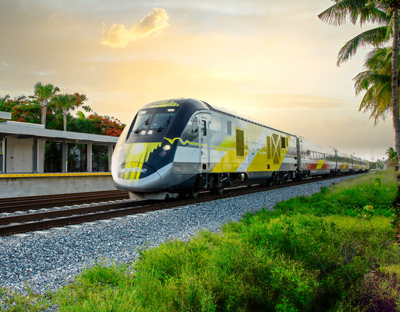 ENSCO Rail, Inc. (ENSCO), a leading provider of autonomous railway track inspection technology, is proud to announce the award of a contract for its track geometry and rail wear measurement technology to Brightline, the only provider of modern, eco-friendly, intercity rail in America, currently connecting Central and South Florida.
ENSCO's highly advanced technology uses state-of-the-art sensors and algorithms to measure critical rail parameters in real-time. This technology provides Brightline a comprehensive track condition assessment and will enable autonomous condition monitoring of the track infrastructure in support of asset management decisions that keep the rail network in top condition.
"ENSCO is honored to continue our partnership with Brightline. Our proven track record of delivering advanced systems underscores our commitment to enhancing railway safety and efficiency. This collaboration further solidifies our dedication to elevating the standards of rail inspection technology," says Rail Division Manager, Jackie van der Westhuizen.
For more information about ENSCO and its autonomous track inspection technology, please visit www.ensco.com/rail.
 
ABOUT ENSCO RAIL
ENSCO Rail stands as a global leader in railway infrastructure inspection technology, extending its reach to serve governments and railways across more than 40 countries. ENSCO Rail's state-of-the-art products and services play a pivotal role in averting train derailments and ensuring the safety of human lives, the environment, and economic interests. Operating as part of ENSCO, Inc.'s Surface Transportation Group (STG), it has served the industry for over 50 years, exemplifying a steadfast commitment to pioneering advanced technologies that enhance safety, security, and quality in rail operations. Its areas of expertise encompass automated inspection systems for track and rolling stock, asset management, and digital twin simulation and analytics. Explore the innovative strides made by ENSCO Rail's in advancing rail technology and operations at www.ensco.com/rail.
ABOUT BRIGHTLINE
Brightline is the only provider of modern, eco-friendly, intercity rail in America. The company currently serves Miami, Aventura, Fort Lauderdale, Boca Raton West Palm Beach and Orlando. Brightline was recognized by Fast Company as one of the Most Innovative Companies in travel, offering a guest-first experience designed to reinvent train travel and take cars off the road. Brightline plans to bring its award-winning service to additional city pairs and congested corridors across the country that are too close to fly and too long to drive, with immediate plans to connect Las Vegas to Southern California. For more information, visit www.gobrightline.com.