SENTRY* is a powerful, proven enterprise-wide and large-scale area protection system for building, campus and border security. Available in both indoor and outdoor versions, SENTRY allows decision makers to make sense of large amounts of disparate information, and use that information to take actions that keep people, property and infrastructure safe.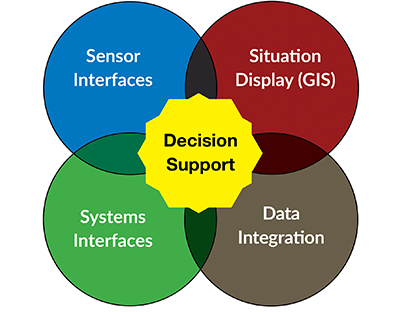 SENTRY works by integrating CBRN sensors with existing sensors for a comprehensive protection system that monitors multiple sensor platforms in complex security and operating environments. It assimilates information from those sensors and rapidly interprets an incident based on all available sensor data. This integrated and comprehensive CBRN sensor view allows first responders and other decision makers to make informed decisions in the face of a catastrophic event, including identifying the safest escape routes, determining decontamination actions, and initiating collective protection and evacuation strategies.
Automatic initiation of response mechanisms, including audible alarms, tailored response checklists, external system alerts, and automated system-level actions allows life-saving action to be implemented quickly.
Features & Benefits
Open architecture software system is easily configured to meet your specific security needs
Rapid interpretation of incident data and automatic initiation of response mechanisms offer quick decision making and action
Multi-sensor automated detection reduces false alarms
Plug-in architecture allows unlimited numbers and types of sensors to be added, upgraded, or swapped at any time
Integrated and comprehensive sensor view reduces security-manning requirements
* ITAR export restrictions apply to SENTRY.