Back to All Press Releases
Falls Church, Va., January 28, 2016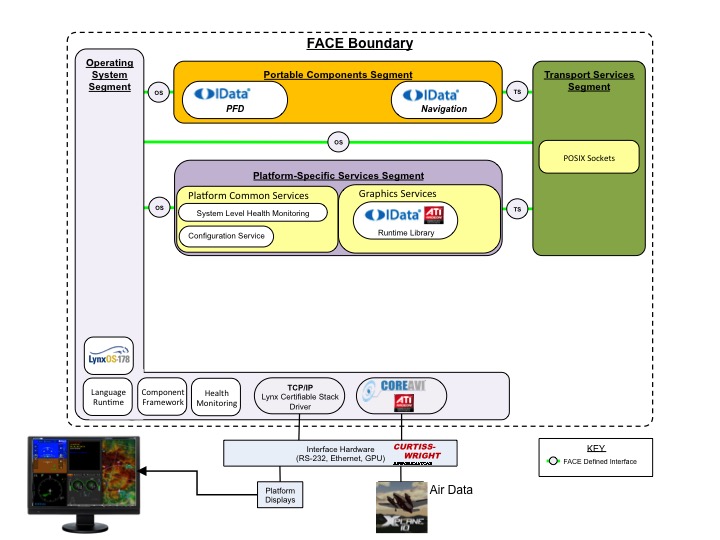 Core Avionics & Industrial Inc., Curtiss-Wright Defense Solutions, ENSCO Avionics, and Lynx Software Technologies have joined forces to demonstrate the first ever FACE™ aligned cockpit display application at the Army Aviation FACE Technical Interchange Meeting at the Von Braun Civic Center in Huntsville, Ala., Feb. 2. The integrated demonstration stack will leverage key offerings by each of the contributing companies:
ENSCO Avionics' IData® Tool Suite with IDataMap
Core Avionics & Industrial Inc.'s safety critical OpenGL® Driver
Lynx Software Technologies' LynxOS-178 real-time operating system
Curtiss-Wright Defense Solution's VPX3-131 3U VPX single board computer
Curtiss-Wright Defense Solution's XMC-715 high performance graphics controller
The collaborating companies will provide an in-depth demonstration of the FACE architecture using all of the FACE segments. Two user applications will be contained in the Portable Component Segment that will represent interchangeable software components from different suppliers. These applications when linked into the FACE architecture will communicate with the IData RunTime in the Graphics services section of the Platform Specific Services segment via the Transport Services Segment.
The IData RunTime Library application will also be receiving data via UDP from the TCPIP stack from the LynxOS-178 RTOS. This data will be supplied by another application (X-Plane) running external to the FACE stack and suppling air data. Finally, the cockpit display will be rendered through the I/O services segment via a Core Avionics & Industrial Inc. safety critical OpenGL driver. All of the FACE stack will be running on Curtiss-Wright hardware, including their SBC and Graphic subsystem. The demo itself will feature a cockpit display that includes a Primary Flight Display (PFD) and digital moving map. It will also show segmented interchangeable sub-frames in the display architecture.
The Army Aviation FACE Technical Interchange Meeting provides a forum for government and industry FACE Consortium contributors to share information about new FACE concepts, products and tools in a technically focused environment. Following a keynote address by Lt. Gen. Michael E. Williamson, attendees will have an opportunity to explore more than 35 exhibitor booths, listen to FACE paper presentations, and see live demonstrations of FACE aligned software components.
ENSCO Avionics, Inc.
For three decades, ENSCO Avionics has offered advanced sophisticated airborne systems through safety- and mission-critical software and programmable hardware engineering solutions, tailored synthetic vision systems, and the IData® Tool Suite to the aerospace industry with specific focus on DO-178C, DO-254, DO-278A, and military standards. ENSCO Avionics, based in Endicott, N.Y., is a wholly owned subsidiary of ENSCO, Inc.