Back to All Press Releases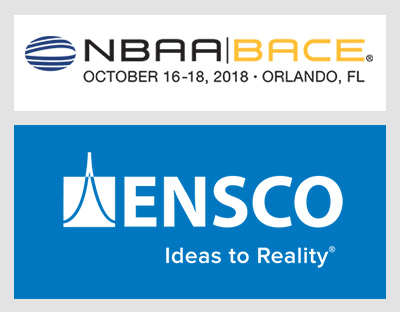 Springfield, Va., October 9, 2018
ENSCO will participate in the National Business Aviation Association's (NBAA) 2018 Business Aviation Convention and Exhibition, the business aviation industry's premiere educational and networking event, in Orlando, Oct. 16-18. Meet ENSCO subject matter experts, view demonstrations, and learn more about how ENSCO capabilities help make flight operations safer, more reliable, and efficient in Booth 624.
This year at NBAA, ENSCO will highlight technology and products in system-wide avionics software and firmware products and solutions, the IData® HMI tool suite for safety-critical display development, and accurate weather forecasting via its MetWise® line of products.
ENSCO will showcase its capabilities in safety-critical software development, certification and real-time embedded systems for the business aviation industry. Areas of expertise include full visualization products and services, commercial aircraft safety certification, military software certification, and specialized engineering for software and hardware solutions.
The exhibit will feature multiple demos of the IData® Tool Suite for advanced avionics displays. An embedded ARINC 661 cockpit display demo will showcase the IData capability to easily create and embed an ARINC 661 display. Other demos will include the IDataMap 2D and 3D digital terrain toolkit, which allows display engineers to create their own custom situational awareness display, such as Synthetic Vision.
In addition, ENSCO will showcase MetWise, ENSCO's meteorology product line designed to bring comprehensive meteorological data clearly and efficiently to decision makers to make critical decisions with ease and confidence. The ENSCO MetWise family of products and services allows users to visualize all types of meteorological information, and to create and distribute the most effective decision assistance tools.
More than 27,000 aviation professionals from around the world are expected to attend NBAA 2018, including aircraft owners, manufactures and customers, to showcase the latest products and services for safe and efficient aviation. Attending this show gives ENSCO Avionics the valuable exposure to demonstrate its advancements in the aviation industry, as well as exchange ideas with leaders in the industry.
ENSCO, Inc.
ENSCO, Inc., and its wholly owned subsidiaries represent a $140 million international technology enterprise, headquartered in the Washington, D.C., area. For almost 50 years, the ENSCO group of companies has been providing engineering, science and advanced technology solutions that guarantee mission success, safety and security to governments and private industries worldwide. ENSCO operates in the defense, transportation, aerospace, and intelligence sectors. Field offices and subsidiaries, representatives and partnerships are located throughout the United States and around the world. Learn more