Back to All Press Releases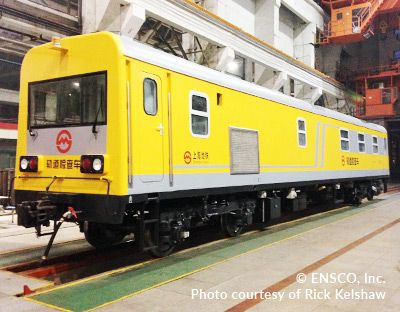 Falls Church, Va., March 16, 2016
In continuation of a successful business relationship with China, ENSCO Rail, Inc., recently delivered a Track Geometry Measurement System (TGMS) and Corrugation Measurement System to the Shanghai Metro. The system includes track geometry, rail profile, rail corrugation, and axle acceleration measurements.

The system is a state-of-the-art, all-digital system, which is the new standard for ENSCO Rail. The new digital sensors are the result of a significant investment of ENSCO Rail R&D. Smaller and self-calibrated by a computer, the digital sensors offer increased sensitivity. As a result, the range of speeds in which they can take measurements is extended, and includes much slower speeds than ever before, making the system more flexible and useful for the customer. The system is an important step forward in rail technology. It is more reliable and accurate, and contains fewer parts and less cabling complexity, all at a lower cost. 

This is the second system delivered to this customer and is the result of a close and good working relationship with ENSCO Rail's agent in China, Biwin, and Shanghai Metro.
ENSCO Rail, Inc.
A wholly owned subsidiary of ENSCO, Inc.
For more than 45 years, ENSCO has been leading the rail industry worldwide in developing new and advanced technologies to improve the safety, security and quality of their operations. ENSCO is a leading provider of automated and autonomous inspection systems, web-based data management systems, vehicle dynamics analysis and simulations, and large-scale systems integration for federal and commercial railways. The ENSCO name represents the rail industry's premier source for track inspection, vehicle/track interaction monitoring, railroad asset management technology, and PTC/train control inspection and services. The ENSCO Rail subsidiary provides the products and services to commercial customers. Learn more