Back to All Press Releases
Springfield, Va., December 2, 2019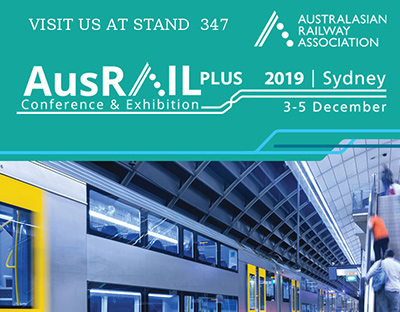 ENSCO Rail Australia (ENSCO) will be showcasing its track inspection and maintenance planning products and services in Stand 347 at AusRAIL Plus 2019 in Sydney, Australia, December 3-5. ENSCO will feature its autonomous and machine vision inspection systems with an integrated portfolio of enterprise data management tools.
With an established presence in Australia, the company is eager to share its latest technologies and systems that increase safety, improve track maintenance decisions and reduce operating cost for the Australian passenger and freight railways.
In conjunction with the show, ENSCO will introduce its Clearance Measurement System (CMS) featuring lidar technology to measure clearance envelopes and provide real-time detection of potential encroachments at tunnels and platforms. Inspection parameters include Tunnel Clearance, Object Detection, Infrastructure Clearance, Track Centerline Offset, Encroachment Analysis and Platform Edge Analysis.
"The Australian rail market is very important for ENSCO," states ENSCO President Boris Nejikovsky. "It's a privilege to share our latest advances in rail track inspection and maintenance planning tools with this market, and to hear firsthand from customers about their most pressing challenges, so that we can continue to lead the industry in innovative solutions for rail safety and efficiency."
AusRAIL Plus is the largest rail event in the southern hemisphere, drawing more than 900 senior attendees and more than 400 exhibitors. This year's conference theme is "Delivering Growth, Creating Opportunity, Embracing Technology."
About ENSCO Rail Australia
A wholly owned subsidiary of ENSCO, Inc.
For more than 45 years, ENSCO has been leading the rail industry worldwide in developing new and advanced technologies to improve the safety, security and quality of their operations. ENSCO is a leading provider of automated and autonomous inspection systems, web-based data management systems, vehicle dynamics analysis and simulations, and large-scale systems integration for federal and commercial railways. The ENSCO name represents the rail industry's premier source for track inspection, vehicle/track interaction monitoring, railroad asset management technology, and PTC/train control inspection and services. The ENSCO Rail Australia subsidiary provides the products and services to commercial customers. Learn more