Back to All Press Releases
Showcasing autonomous track inspection, machine vision, track asset management and decision support, and track inspection systems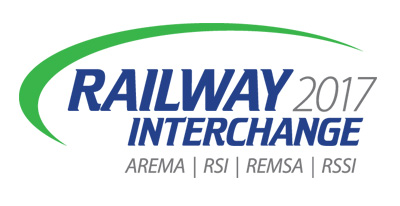 Falls Church, Va., September 8, 2017
ENSCO Rail, an international leader in advanced rail technology solutions for passenger, transit and freight markets, will be participating in Railway Interchange 2017. The event takes place in Indianapolis, Sept. 17-19.
ENSCO will be exhibiting in Booth 4653 and showcasing technology and expertise in autonomous track inspection, machine vision, track asset management and decision support, and track inspection systems. In the booth, ENSCO will highlight the following technologies and demonstrations:
Virtual Track Walk—Inspect high-resolution, synchronized track images in your office to conduct track inspections, asset audits, and concrete tie grading.
GeoEdit 8—View measurement data, generate reports, and export data for your needs.
Digital Track Geometry and Rail Profile—See ENSCO's latest digital technology components, allowing for greater accuracy and easier calibration.
Automated Maintenance Advisor (AMA)—Integrate your track inspection tools to better understand deteriorating condition trends to proactively and scientifically plan track maintenance tasks.
Signal and Communications Inspection System—Independently measure and inspect train control systems, AC track circuits, grade crossings, and insulated joints.
IData®—Use this COTS software development toolkit to design Human Machine Interface (HMI) for railway vehicles.
Subject matter experts from ENSCO contributed to the following papers to be presented at the 2017 AREMA Annual Conference in Indianapolis
Characterization of Fouled Ballast Track Demonstration with Multiple Technologies by Hugh Thompson (FRA), Radim Bruzek (ENSCO), Chris Moale (CSX Transportation), Dave Walsh (Vista Clara, Inc.), Peter Goff (Balfour Beatty Rail) and Brian Barrett (Zetica Rail)
FRA ATGMS Program Accomplishments by Cameron Stuart (FRA), Gary Carr (FRA), James Payne (FRA), Eric Tyson (ENSCO) and Jennifer Steets Zahaczewski (ENSCO)
Railway Interchange is the largest combined railway exhibition and technical conference in North America. Attended by nearly 10,000 industry professionals from around the globe, this massive railway event showcases the latest technology, services and research by members of the Railway Supply Institute (RSI), the Railway Engineering-Maintenance Suppliers Association (REMSA), and Railway Systems Suppliers, Inc. (RSSI).
Railway Interchange also features technical presentations and discussions by the American Railway Engineering and Maintenance-of-Way Association (AREMA) and Coordinated Mechanical Associations (CMA).
ENSCO Rail, Inc.
A wholly owned subsidiary of ENSCO, Inc.
For more than 45 years, ENSCO has been leading the rail industry worldwide in developing new and advanced technologies to improve the safety, security and quality of their operations. ENSCO is a leading provider of automated and autonomous inspection systems, web-based data management systems, vehicle dynamics analysis and simulations, and large-scale systems integration for federal and commercial railways. The ENSCO name represents the rail industry's premier source for track inspection, vehicle/track interaction monitoring, railroad asset management technology, and PTC/train control inspection and services. The ENSCO Rail subsidiary provides products and services to commercial customers. Learn more