Back to All Press Releases
Springfield, Va., September 9, 2019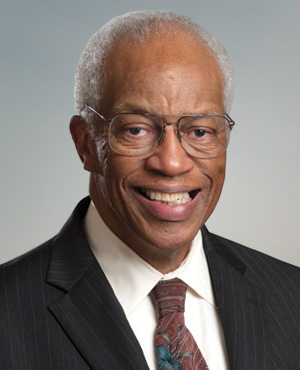 Dr. Guion "Guy" S. Bluford Jr., Ph.D., founder and president of the Aerospace Technology Group and member of the Board of Directors at ENSCO, Inc. since 2003 has been selected for induction into the National Aviation Hall of Fame. A former NASA astronaut, Dr. Bluford has held executive positions at Northrop Grumman, Federal Data Corporation and NYMA Inc.
Prior to being chosen by NASA to become an astronaut, Dr. Bluford received his pilot wings in the United States Air Force. He was also a standardization and evaluation officer as well as an assistant flight commander, logging more than 5,200 hours of flight time. With NASA, he logged more than 688 hours in space. He received his doctoral and master's degrees in aerospace engineering from the Air Force Institute of Technology, a Master of Business Administration from the University of Houston, attended the University of Pennsylvania's Wharton School of Business, and has a bachelor's degree in aerospace engineering from Penn State University. Dr. Bluford served 29 years in the United States Air Force.
Years after leaving NASA in 1993, Dr. Bluford was inducted into the International Space Hall of Fame in 1997 and the United States Astronaut Hall of Fame in 2010.
"It has been an honor and privilege to have Dr. Bluford on ENSCO's Board of Directors" stated ENSCO president Boris Nejikovsky. "His great knowledge of the aerospace market, his extensive government and commercial experience, and his keen understanding of business and people have been a tremendous asset for our company."
The National Aviation Hall of Fame will induct Dr. Bluford on Saturday, September 28, 2019 at the Wings Over the Rockies Air & Space Museum in Denver, Colo. Dr. Bluford joins the likes of former inductees John Glenn, Neil Armstrong and Buzz Aldrin.
ENSCO, INC.
ENSCO, Inc., and its wholly owned subsidiaries represent a $140 million international technology enterprise, headquartered in the Washington, D.C., area. For 50 years, the ENSCO group of companies has been providing engineering, science and advanced technology solutions that guarantee mission success, safety and security to governments and private industries worldwide. ENSCO operates in the defense, transportation, aerospace, and intelligence sectors. Field offices and subsidiaries, representatives and partnerships are located throughout the United States and around the world. Learn more about ENSCO