Back to All Press Releases
Falls Church, Va., February 28, 2017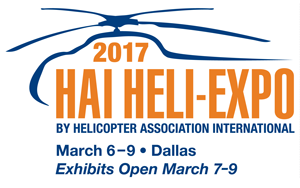 ENSCO Avionics will be showcasing its engineering and certification solutions at HAI Heli-Expo, the world's largest trade show dedicated to the international helicopter community.
Organized by the Helicopter Association International (HAI), Heli-Expo is March 6-9 in Dallas. The event boasts hundreds of exhibitors and attracts more than 25,000 visitors, bringing together industry experts, experienced professionals, and those who want to learn more about the latest advances in the industry.
Central to the ENSCO Avionics exhibit will be the IData® Tool Suite, the only data-driven HMI tool on the market. The demonstration will show how IData enables designers to design once for multiple platforms, streamlining development and certification. ENSCO Avionics will be showcasing IData- and IDataMap-developed applications on multiple embedded targets, including a cockpit display with integrated moving map and a generic instrumentation interface.
ENSCO Avionics will be in Booth 8708 at Heli-Expo. The exhibit hall will be open daily March 7-9 at the Kay Bailey Hutchinson Convention Center in Dallas.
ENSCO AVIONICS, INC.
For more than 30 years, ENSCO Avionics has developed sophisticated airborne systems for the aerospace industry to meet DO-178C, DO-254, DO-278A, and military standards for manned and unmanned systems. ENSCO Avionics focus is on safety- and mission-critical software and programmable hardware engineering solutions, custom display development, tailored synthetic vision applications, integration test solutions, and the IData® Tool Suite. ENSCO Avionics, based in Endicott, N.Y., is a wholly owned subsidiary of ENSCO, Inc. www.ensco.com/avionics