Back to All Press Releases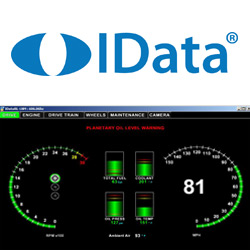 Dorval, Québec, May 1, 2015
ENSCO Avionics Canada Inc. is pleased to announce the win and delivery of our first land vehicle modernization contract with a company in southern Ontario. This win provides ENSCO an opportunity to showcase our embedded environment capabilities and to expand into vertical markets.
Tasked with developing a digital driver console, ENSCO designed the driver interface with ENSCO's IData® Tool Suite and developed the software interface between the vehicle systems and the cockpit systems. Two ruggedized touchscreen tablets were used to provide a "Dashboard/Driver Interface" and "Vehicle Status Interface." The implemented technology allows the user to graphically view the readings from the engine and vehicle sensors, receive maintenance indications, and observe the outside surroundings without the need to use the driver turret by pulling in multiple camera feeds.
ENSCO's IData Tool Suite is one of the Industry's premiere software development toolkits for creating and deploying Human Machine Interface (HMI) applications in safety-critical environments. IData supports dynamic graphical data displays with innovative user interaction, live video, sensor data, and powerful geospatial information with 2-D and 3-D content. IData has been successfully deployed in diverse applications from safety-critical DO-178C certified cockpit displays to land vehicles to Unmanned Aircraft Systems (UAS) control systems, ground stations and UAS training and simulation solutions.
About ENSCO Avionics Canada, Inc.
ENSCO Avionics Canada Inc. has advanced sophisticated embedded systems through our safety/mission-critical software and programmable hardware engineering solutions, tailored synthetic vision systems, and the IData® HMI Tool Suite. Our development, test, integration and certification expertise includes DO-178C, DO-254, DO-278A and military standards. ENSCO Avionics Canada maintains a base of operation in Montréal, Québec.