Back to All Press Releases
Falls Church, Va., January 23, 2018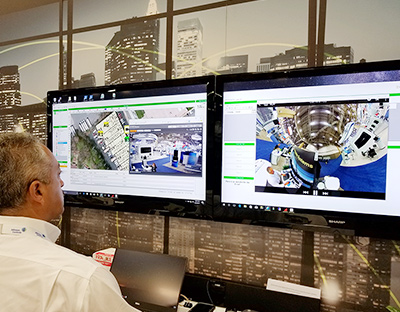 ENSCO, Inc. is proud to announce it has been awarded a contract from the Pentagon Force Protection Agency-CBRNE Systems Branch (PFPA-CBRNE) to provide continued support to PFPA's CBRNe Warning & Decision Support System (SENTRY).
With a total value of $8.2 million over a five-year period, ENSCO will provide software development support and customization to the SENTRY application, which has been installed at the Pentagon since 2002. The SENTRY application supports CBRNe decision support by seamlessly coupling sensor data and enterprise system interfaces into a situational awareness and actionable security application. SENTRY provides a critical level of protection to the Pentagon Reservation, Department of Defense (DOD) activities, and other facilities within the National Capital Region.
ENSCO will also provide on-site support for the application. Specifically, ENSCO will collaborate with the customer to provide sensor support, modeling and building system control, equipment selection procurement, and system threat assessment.
"The ENSCO-developed SENTRY system provides reliable and comprehensive CBRNe detection and decision support capabilities," states Boris Nejikovsky, President of ENSCO, Inc. "We are proud of the system's great track record in support of this important mission, and view the contract as testament to the exceptional performance of our technology and the outstanding qualifications and dedication of our team."
ENSCO has partnered with PFPA for the past 15 years in providing CBRNe protection to the PFPA organization. SENTRY facilitates the critical early warning capability and is operational as a high-availability 24/7 mission-critical application at the Pentagon Operations Center (POC). SENTRY is necessary to employ real-time event capabilities incorporated into one system, allowing for superior situational awareness and predictive modeling capabilities.
ENSCO's SENTRY development team has more than 50 years of combined experience with CBRNe systems sensors, situational awareness, and threat monitoring and response.
About ENSCO, INC.
ENSCO, Inc., and its wholly owned subsidiaries represent a $100 million international technology enterprise, headquartered in the Washington, D.C., area. For almost 50 years, the ENSCO group of companies has been providing engineering, science and advanced technology solutions that guarantee mission success, safety and security to governments and private industries worldwide. ENSCO operates in the defense, transportation, aerospace, and intelligence sectors. Field offices and subsidiaries, representatives and partnerships are located throughout the United States and around the world. Learn more