Back to All Press Releases
Falls Church, Va., January 11, 2016
Exhibit will feature latest product launch and a new service vehicle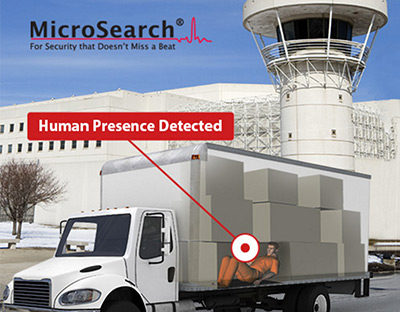 MicroSearch®, a human presence detection system, will be featured at an exhibit at the American Correctional Association's Winter Conference, Jan. 23-26, at the Ernest Morial Convention Center in New Orleans, La.
The event will serve as the official launch of the latest version of MicroSearch (MicroSearch® 4.0), which uses advanced technology to determine if an unauthorized person is hiding in a vehicle or container by detecting the vibrations caused by the person's heartbeat. New features offer improved accuracy and a better user experience, including individual signal traces, a wind sensor, and a still camera.
The MicroSearch booth (#635) will feature a live demonstration of the system. In addition, a new service vehicle will be on display for tests and demonstrations.
MicroSearch® is a patented human presence detection system that deters stowaways and escapes by detecting unauthorized individuals hiding in vehicles or containers. Using advanced algorithms, the system quickly and non-invasively detects an unauthorized human presence by sensing their heartbeat. It is ideal for monitoring prison services, prison industries, inmate visitors, and staff vehicles.
About ENSCO, Inc.
ENSCO, Inc., and its wholly owned subsidiaries represent a $100 million international technology enterprise, headquartered in the Washington, D.C., area. For almost 50 years, the ENSCO group of companies has been providing ingenious engineering, scientific and advanced technology solutions that guarantee mission success, safety and security to governments and private industries around the world. ENSCO operates in the defense, transportation, aerospace and intelligence sectors. Field offices and subsidiaries, representatives and partnerships are located throughout the United States and the world. Learn more