Back to All Press Releases
The newest sensor, the Standoff Vehicle Sensor, for touch-free, contactless human detection to adapt to a new global environment.
Springfield, Va., February 8, 2021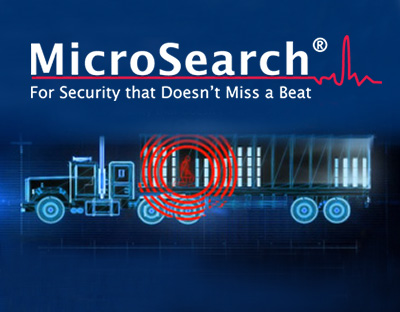 ENSCO is pleased to announce the latest advance to MicroSearch®, its Human Presence Detection System (HPDS) for vehicle and container inspections at correctional facilities, border crossings, ferry ports, seaports and high-value facilities. In response to customer operational requirements, ENSCO has developed a new HPDS that features a contactless Standoff Vehicle Sensor (SVS) to MicroSearch, offering even greater portability, flexibility and safety during inspections.  
The current global climate is accelerating the demand for enhanced safety and security measures, making the unprecedented capabilities of this product a true game changer. MicroSearch was previously offered as either a wired or wireless system. This next generation MicroSearch System is the only HPDS on the market that provides true contactless vehicle and container inspection, achieving an enhanced level of inspector safety, cost savings and operational efficiency while still ensuring the highest degree of accuracy and reliability.
With the introduction of the latest generation of HPDS, MicroSearch will continue with an uncompromised track record as the human presence detection industry leader.
"Human smuggling, illegal border crossings, security of high value facilities and other similar applications represent a growing challenge across the world. With the release of this unique contactless inspection technology, MicroSearch customers will have a new highly effective tool to address this challenge," says ENSCO President Boris Nejikovsky. "The outcome of many years of research and development efforts, this new generation of MicroSearch technology will allow ENSCO to continue to maintain its leadership position in human presence detection. Under the COVID environment, this touch-free, contactless technology could not launch at a more opportune time. We are excited at how this new technology will save inspection costs and time while improving safety for current and future customers."
ENSCO, INC.
ENSCO, Inc., and its wholly owned subsidiaries represent a $140 million international technology enterprise, headquartered in the Washington, D.C., area. For more than 50 years, the ENSCO group of companies has been providing engineering, science and advanced technology solutions that guarantee mission success, safety and security to governments and private industries worldwide. ENSCO operates in the defense, transportation, aerospace and intelligence sectors. Field offices and subsidiaries, representatives and partnerships are located throughout the United States and around the world. Learn more about ENSCO