Back to All Press Releases
Falls Church, Va., May 20, 2016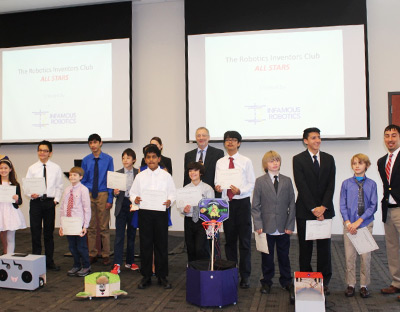 ENSCO President Boris Nejikovsky was honored to judge the children's Robotics Inventors Club All Stars competition to select the autonomous robot designed to help fight childhood obesity with the best chance to succeed in the marketplace. The competition took place, April 18, in front of a supportive audience of family and friends.
Four teams of three children, ages eight to 13, were tasked by Mr. Roboto, CEO Anthony Nunez of Infamous Robotics, to conceptualize, design and build their robot within an eight month period. Not only did the teams have to come up with the concept for the robot, order the sensors, batteries, wiring, switches, etc., design and build their robot, they were also tasked with presenting their business plan for taking the robot to market.
All robots were designed to help fight childhood obesity by getting children outdoors and moving. The overall winner of the competition and the winner of the "Most Innovative" design was the "Soccer Robotics" team with a robotic soccer goal that moved and changed direction to challenge the kicker. In announcing the winner, Mr. Nejikovsky noted that this robot was selected because of its potential strong market appeal, practicality of the design, ability to adjust to different levels of skill, and a reasonable projected retail cost of $200. A provisional patent application has been submitted.
The Kid-Botics team with the "Octobot," a moving and circling basketball goal, whose difficulty increased after five consecutive goals, received the award for Best Design. The award for the Best Business Approach went to the PB&J team with the roving smiley face boom box for their detailed financial plan, which included ROI and their exit strategy. Kinetics for Kids (K4K) received the award for Best Demo with their turtle robot that shoots balls for the child to catch.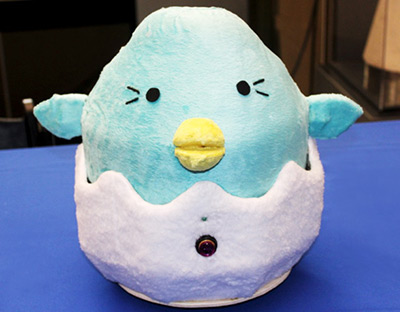 ENSCO was a sponsor of the club and also provided the four computers, prominently displaying the ENSCO logo, which were used by the teams. Support for the program demonstrates ENSCO's interest in furthering STEM (science, technology, engineering, arts, and mathematics) education and creative thinking for children. This program stresses the STEM disciplines while encouraging innovation as they conceive and build the robots, using no prepackaged kits.
This event followed the ENSCO sponsored Robotics Inventors Club (RIC) presentation, April 1, at the Smithsonian Institution in Washington, D.C., during National Robotics Week. Children in the club presented the SPARK (Smart Pacifying Autonomous Robot for Kids) autonomous robot that they designed and built to have a calming influence on autistic children. SPARK was designed as a pastel soft bird with very soft sounds and gentle movements of the wings and body.