Back to All Press Releases
Falls Church, Va., February 27, 2017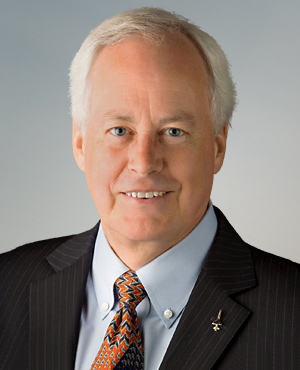 ENSCO, Inc., is pleased to announce that Scott Webster has joined ENSCO's Board of Directors. Mr. Webster brings a strong record of achieving corporate growth through strategic clarity, innovation and teamwork spanning three decades of executive and board experience.
"ENSCO is excited to add Scott Webster to its Board of Directors," said Greg Young, Chairman of the Board of ENSCO. "Scott has made pioneering contributions to our industry and has a track record of assisting companies with strategic growth. His experience as a senior executive and director of both public and privately held corporations and his extensive background in aerospace and defense make him an excellent addition to ENSCO's board."
Mr. Webster also serves on the board of Orbital ATK, Inc., a global aerospace and defense prime contractor with revenues of approximately $5 billion. He serves on the board of QinetiQ North America, the U.S. subsidiary of the United Kingdom's premier defense technology company. He was a co-founder of Orbital Sciences Corporation and a director since inception. He was Chairman of the Board of MBDA, Inc., the U.S. subsidiary of Europe's largest missile system producer.
As Chief Executive Officer of ORBCOMM, Orbital's satellite data communications subsidiary, Mr. Webster managed procurement, launch and operation of a constellation of 35 satellites, established global distribution and supervised rollout of worldwide commercial service. As President of Orbital's rocket system division, Mr. Webster led a team that achieved more than 40 successful space launches while tripling revenue. As Senior Vice President of Marketing and Business Development, he implemented strategies that enabled an industry outsider to penetrate NASA and DOD markets, landing Orbital's vital first contracts.
Mr. Webster was a member of the team that developed Pegasus, the world's first privately developed space launch vehicle that resulted in Orbital's winning the National Medal of Technology, America's highest science and technology honor. He is the recipient of Harvard's Alumni Achievement Award, the highest honor conferred by the Harvard Business School. The Arthur Rock Center for Entrepreneurship named him one of its "Rock Stars."
Mr. Webster holds a master's degree in business administration from the Harvard University Graduate School of Business Administration and a bachelor's degree in mechanical engineering from the University of Minnesota.
About ENSCO, Inc.
ENSCO, Inc., and its wholly owned subsidiaries represent a $100 million international technology enterprise, headquartered in the Washington, D.C., area. For almost 50 years, the ENSCO group of companies has been providing ingenious engineering, scientific and advanced technology solutions that guarantee mission success, safety and security to governments and private industries around the world. ENSCO operates in the defense, transportation, aerospace and intelligence sectors. Field offices and subsidiaries, representatives and partnerships are located throughout the United States and the world. Learn more