Back to All Press Releases
Pueblo, CO, November 10, 2023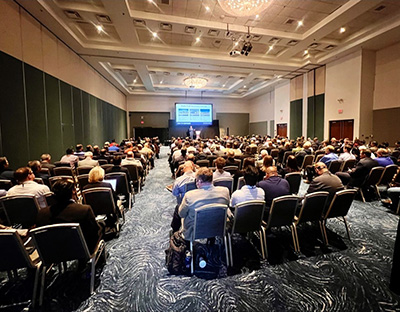 ENSCO, Inc. hosted more than 300 attendees from government, industry, and academia for the Transportation Technology Center First Annual Conference & Tour on November 7-8 in Pueblo, Colorado. The two-day event was held at both the Pueblo Convention Center and the Transportation Technology Center (TTC).
During the first day of the conference, presentations and roundtable discussions focused on critical issues for the rail and transportation industry including cybersecurity, decarbonization, emergency response, workforce development, and future research and test needs from government and industry perspectives. On day two, attendees experienced unprecedented access to the TTC through a first-of-its-kind expanded tour of the 52-square-mile property. Some of the sites observed included the Impact Wall, a structure with a three-million-pound impact load rating, the Underground Tunnel, a vital research tool used for blast testing within confined spaces, and the Precision Geometry Slab Track, an adjustable track to assess vehicle dynamics and track measuring system accuracy. In addition to the tour and live demonstrations, industry suppliers presented their equipment on-track showcasing new and emerging technologies.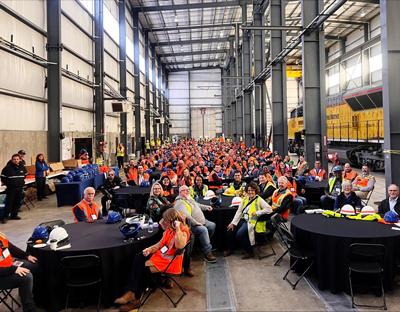 "This event provided an excellent opportunity to bring interested stakeholders together to discuss important research, test, and training priorities for our industry and highlight how this national asset, the TTC, can be used by this community to advance their key initiatives in development of industry standards, product lifecycle testing, vulnerability assessment, HAZMAT first response, and workforce development," ENSCO President Jeff Stevens noted.
TTC was built in 1971 and has been established as the largest railway test and training facility in the world. Through its history, the TTC has contributed to some of the most notable advancements in the world for railway safety and innovation. As the current operator of the Federal Railroad Administration (FRA)-owned facility, ENSCO is expanding the role of the center to support additional government and commercial entities.
During the two-day event, ENSCO announced dates for the 2nd Annual TTC Conference & Tour, which will take place on October 22-23, 2024. For more information, please visit the conference website, https://ttc-conference.com.
To learn more about the TTC, please visit https://ttc-ensco.com.
 
About the Transportation Technology Center (TTC)
ENSCO, Inc. is the operator of the Federal Railroad Administration's (FRA) Transportation Technology Center (TTC) located in Pueblo, Colorado. Spanning 52 square miles, the TTC is a national asset for pioneering transportation research, testing, and training to advance the safety, security, resiliency and sustainability of railways and other modes of surface transportation. Recognized as the world's largest railway testing facility, TTC boasts an impressive 50 miles of test tracks, inclusive of catenary and third rail electrified track, with vehicle test speeds of up to 165 mph. The TTC is also home to the Center for Critical Infrastructure Protection (CCIP). The CCIP's mission is singular: to fortify critical infrastructure entities against cyber and physical threats through comprehensive training, rigorous assessments, meticulous testing, and robust protection measures. Located at 55500 DOT Road, Pueblo, CO 81001, the TTC stands as a pillar of innovation and advancement. Explore the vast TTC capabilities at https://ttc-ensco.com.