Back to All Press Releases
Falls Church, Va., March 22, 2017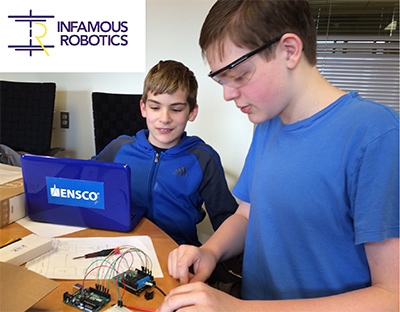 ENSCO, Inc. is pleased to once again sponsor the children's Robotics Inventors Club™ and the Start Your Own Robotics Company, which offer children a new way to immerse themselves in the world of robotics and business. Members of the club, ages 8 to 13, spend Saturday afternoons working together to conceive, design, build, test, and ultimately present their robot during National Robotics Week at the Smithsonian American History Museum in Washington, D.C., April 7, from 10 a.m. to 1 p.m.
While the focus of the Robotics Inventors Club is exploring the field of robotics, a mission of the club is that the robot conceived must solve a real-world problem. This year, the club is building a robot to help the visually impaired exercise more independently.
These programs are the concepts of Infamous Robotics LLC, which teaches children about the STEAM (Science, Technology, Engineering, Art, and Math) fields, using components to build the robots, not prepackaged kits. Members divide into teams to work in the areas of software, electrical and mechanical, and incidentally develop soft skills, such as leadership, teamwork, real-world problem solving, group logistics, and time management.
Students from the Robotics Inventors Club may expand their knowledge and skills and participate in the Robotics Inventors Club All Stars, a "Start your Own Robotics Company" competition. The All Stars form small teams and have eight months to design and build an innovative robot, and create a marketing plan to sell the product. The 2017 goal for the All Stars teams is to design a robot for the pet market. The teams will compete against each other, demonstrate the robot, and present their business plan to a panel of judges with expertise in robotics. A previous product is in the process of applying for a trademark. Boris Nejikovsky, ENSCO President, was a judge for the competition in 2016 and was invited to judge this year's competition, April 18.
ENSCO, founded in 1969 and headquartered in Falls Church, Va., has its origins in sensors and signal analysis. For almost 50 years, the company has been known for its creative and innovative use of new technologies in national security, railway safety, avionics, aerospace and meteorology. ENSCO is pleased to support the Robotics Inventors Club of future engineers, technologists and scientists.
About ENSCO, Inc.
ENSCO, Inc., and its wholly owned subsidiaries represent a $100 million international technology enterprise, headquartered in the Washington, D.C., area. For almost 50 years, the ENSCO group of companies has been providing engineering, science and advanced technology solutions that guarantee mission success, safety and security to governments and private industries worldwide. ENSCO operates in the defense, transportation, aerospace and intelligence sectors. Field offices and subsidiaries, representatives and partnerships are located throughout the United States and around the world. Learn more