Back to All Press Releases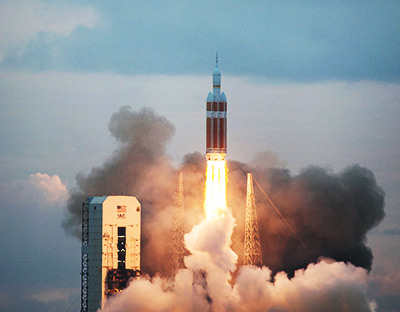 Falls Church, Va., May 6, 2015
ENSCO is pleased to announce its involvement in the successful mission of the Orion spacecraft, Dec. 5, 2014. From pre-flight verification testing to Launch Control Systems software and hardware equipment configuration in the Firing Room to modeling and forecasting weather constraints and monitoring Orion's batteries as part of the Orion Flight Following System, ENSCO engineers and technologists were involved.
"ENSCO is proud of our support on this exciting program," stated Boris Nejikovsky, President of ENSCO." We look forward to continuing to contribute to the program, which will define the future of human space exploration for years to come."
ENSCO engineers in New York have been providing verification testing of the Orion flight software since 2011 to meet this important milestone. ENSCO Avionics anticipates having an increasing role in future phases of the Orion Space Program as our country works toward a manned mission to Mars.
The ENSCO team working on the Kennedy Space Center Engineering Support Contract played a multitude of key roles to ensure mission success of Orion.
ENSCO team members played a lead role in Launch Control Systems (LCS) software development, as well as LCS hardware equipment configuration in the Firing Room. This included being the System Engineering Lead for development of the LCS interface software, which comprised performing the Orion interface testing between the LCS and Orion's avionics. ENSCO also provided Reliability and Safety Assessment Reports, System Assurance Analyses, and Validation and Verification testing of many Orion subsystems. ENSCO employees were also instrumental in repurposing a robotic arm to scan the Orion heat shield for cracks.
ENSCO employees on-site at the Applied Meteorology Unit (AMU) at Cape Canaveral Air Force Station supported the launch effort in modeling and forecasting weather constraints that could impact the mission, including ground launch wind constraints, rain showers, and fog. In addition, they provided AMU subject matter expertise support and monitored the real-time model forecasts.
In addition, ENSCO team members were recognized for performing key roles on the Advanced Ground Systems Maintenance team and the Integrated Health Management System software that monitors Orion's batteries as part of the Orion Flight Following System.
About ENSCO, Inc.
ENSCO, Inc., and its wholly owned subsidiaries represent a $90 million international technology enterprise, headquartered in the Washington, D.C., area. For more than 45 years, the ENSCO group of companies has been providing ingenious engineering, science and advanced technology solutions that guarantee mission success, safety and security to governments and private industries around the globe. ENSCO operates in the defense, transportation, aerospace and intelligence sectors. Field offices and subsidiaries, representatives and partnerships are located throughout the United States and around the world. Learn more