Back to All Press Releases
Springfield, Va., April 30, 2019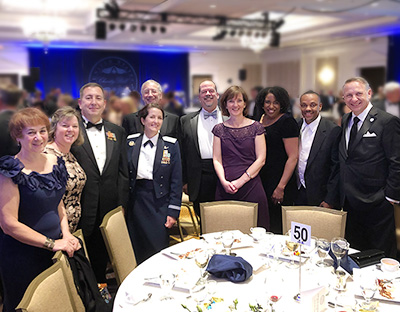 ENSCO is pleased to announce it was a Gold Supporter of the 16th Annual United States Air Force Charity Ball at the Ritz-Carlton in Tysons Corner, Va., April 27.
The United States Air Force Charity Ball is an annual gala that was started in 2004. That year, the Air Force Officers' Spouses' Club (AFOSC) at Bolling Air Force Base created a special committee to host a charity ball to benefit the Air Force Aid Society (AFAS), the official charity of the United States Air Force. Since its inception, the gala has generated more than $7.5 million and become one of the largest fundraisers for the AFAS.
Attending from ENSCO were President Boris Nejikovsky, Vice President of National Security Solutions Vernon Joyner, Vice President of ENSCO Avionics Robert Sanders, and Chief Engineer of Position/Navigation/Timing Dr. Wilbur Myrick.
"ENSCO is proud to support the Air Force Mission and members of the United States Air Force," states Boris Nejikovsky, President of ENSCO. "The Air Force Aid Society provides emergency assistance and educational support to Airmen. Our company is proud to contribute to such a worthy cause."
ENSCO, Inc.
ENSCO, Inc., and its wholly owned subsidiaries represent a $140 million international technology enterprise, headquartered in the Washington, D.C., area. For 50 years, the ENSCO group of companies has been providing engineering, science and advanced technology solutions that guarantee mission success, safety and security to governments and private industries worldwide. ENSCO operates in the defense, transportation, aerospace, and intelligence sectors. Field offices and subsidiaries, representatives and partnerships are located throughout the United States and around the world. Learn more