Back to All Press Releases
Falls Church, Va., July 18, 2018
ENSCO will be participating in the National Defense Industrial Association (NDIA) Annual CBRN Defense Conference and Exhibition at the Chase Center on the Riverfront, in Wilmington, Del., July 24-25.
ENSCO subject matter experts will be in Booth 316 to discuss ENSCO CBRN capabilities, including these early warning and detection products and services
SENTRY—A powerful, proven, enterprise-wide, and large-scale area protection system for building, campus and border security that provides decision makers actionable information to keep people, property and infrastructure safe.
SenseNet—A real-time bio-threat awareness system that provides a sustainable, low-cost approach to environmental monitoring to reduce the potential impact of a biological incident.
Sensor Integration and Decision Support System—A commercially available and licensed sensor integration and decision support system that provides decision makers with rapid interpretation of an incident based on all available sensor evidence.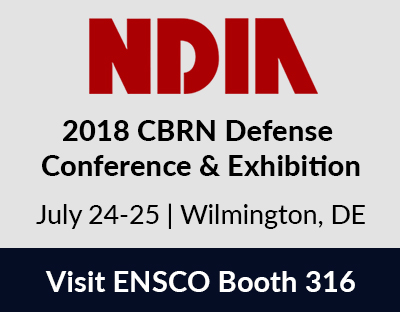 The purpose of the event is to promote the positive exchange of scientific, technical and operational information, relating to the subject of defense against Weapons of Mass Destruction (WMD) and the ever-growing CBRN threat around the world and in our homeland.
This conference will provide both government and industry the opportunity to understand and better support current and future CBRN joint program requirements and to identify potential business opportunities associated with them. The CBRN Defense Conference will also provide a venue to spotlight the emerging defensive CBRN national and international technologies, along with promising research and development opportunities.
ENSCO, Inc.
ENSCO, Inc., and its wholly owned subsidiaries represent a $130 million international technology enterprise, headquartered near Washington, D.C. For almost 50 years, the ENSCO group of companies has been providing engineering, scientific and advanced technology solutions that guarantee mission success, safety and security to governments and private industries worldwide. ENSCO operates in the defense, transportation, aerospace, and intelligence sectors. Field offices and subsidiaries, representatives and partnerships are located throughout the United States and the world. Learn more