Back to All Press Releases
Springfield, Va., July 3, 2019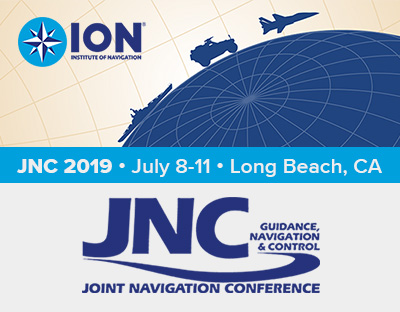 ENSCO will be participating in the 2019 Joint Navigation Conference, July 8-11, in Long Beach, Calif. The Military Division of the Institute of Navigation (ION) will host the 2019 Joint Navigation Conference (JNC 2019) for the Department of Defense and Department of Homeland Security. The theme of this year's conference is Positioning, Navigation and Timing Technologies: The Foundation for Military Ops and Homeland Security.
JNC is the largest U.S. military Positioning, Navigation and Timing (PNT) conference of the year with joint service and government participation. The event will focus on technical advances in PNT with emphasis on joint development, test and support of affordable PNT systems, logistics and integration. From an operational perspective, the conference will focus on advances in battlefield applications of GPS; critical strengths and weaknesses of field navigation devices; warfighter PNT requirements and solutions; and navigation warfare.
ENSCO subject matter experts will be in Booth 503 to discuss ENSCO's capabilities in PNT, including its patented Timing, Communications and Ranging core measurement system, which enables Assured-Positioning, Navigation and Timing solutions that combine advanced sensing and communications technologies to augment GPS and address a wide range of mission-critical challenges.
In addition, ENSCO will present its expertise in Machine Learning (ML) for detection and classification of RF signatures. ENSCO has implemented these ML algorithms on state-of-the-art SDRs to support customers who need accurate and autonomous threat detection or surveillance capabilities in NAVWAR environments.
"ENSCO is pleased to participate in JNC 2019," states Boris Nejikovsky, President of ENSCO, Inc. "It offers us an opportunity to share the advances we are making in Positioning, Navigation and Timing technology and how they offer viable solutions to the challenges faced by the warfighter."
ENSCO, INC.
ENSCO, Inc., and its wholly owned subsidiaries represent a $140 million international technology enterprise, headquartered in the Washington, D.C., area. For 50 years, the ENSCO group of companies has been providing engineering, scientific and advanced technology solutions that guarantee mission success, safety and security to governments and private industries worldwide. ENSCO operates in the defense, transportation, aerospace, and intelligence sectors. Field offices and subsidiaries, representatives and partnerships are located throughout the United States and the world. Learn more about ENSCO