Back to All Press Releases
Team members will present papers on COTS timing architecture and Machine Learning framework for PNT situational awareness
Springfield, Va., June 1, 2022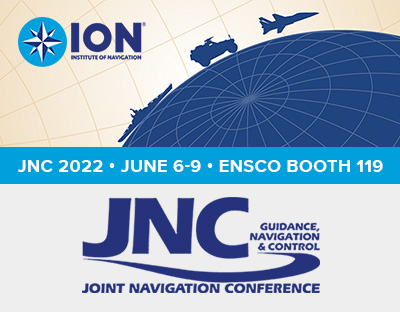 ENSCO, Inc., a leading-edge engineering, science and advanced technology solutions provider, will participate in the Institute of Navigation's Joint Navigation Conference in San Diego (June 6 – 9) and showcase its most advanced technologies to address a wide range of tracking, locating and navigation challenges for the warfighter.
As the expansion of GPS has simplified the movement of people and assets around the world, even the most sophisticated satellite navigation equipment cannot operate in every environment. ENSCO provides robust custom PNT solutions for environments where GPS service is degraded or unavailable.
"This year's ION-JNC focuses on maintaining dominance and resilience for the warfighter and homeland security," commented Boris Nejikovsky, President of ENSCO, Inc. "At the conference, we will present our unique PNT technologies and solutions based on machine learning, patented timing and advanced sensing to address mission-critical challenges associated with NAVWAR environments," he continued.
 
Please visit the ENSCO exhibit at JNC 2022
Meet with ENSCO's National Security Solutions team to discuss our industry leading technologies.
ENSCO team members will be presenting the following papers during the ION-JNC 2022:
Session C2: Integrity and Assurance 1
Monday, June 6, 2022, 5:05 p.m.
Resilient Commercial-off-the-Shelf (COTS) Timing Architecture for Rapid Deployment with Situational Awareness
 
Session C8: Integrity and Assurance 2
Wednesday, June 8, 2022, 4:45 p.m.
Machine Learning Framework for PNT Situational Awareness and GPS Authentication

JNC is the largest U.S. military Positioning, Navigation and Timing (PNT) conference of the year with joint service and government participation. The event focuses on technical advances in PNT with emphasis on joint development, test and support of affordable PNT systems, logistics and integration. From an operational perspective, the conference will focus on advances in battlefield applications of GPS; critical strengths and weaknesses of field navigation devices; warfighter PNT requirements and solutions; and navigation warfare.
About the Institute of Navigation
The Institute of Navigation (ION) is a not-for-profit organization advancing Positioning, Navigation and Timing (PNT). ION's international membership is drawn from many sources including professional navigators, engineers, physicists, mathematicians, astronomers, cartographers, photogrammetrists, meteorologists, educators, geodesists, surveyors, general aviation and airline pilots, mariners and anyone interested in position-determining systems. Corporate members include corporations, civil and military government agencies, private scientific and technical institutions, universities and training academies, and consulting firms.
About ENSCO, Inc.
ENSCO, Inc., and its wholly owned subsidiaries represent a $140 million international technology enterprise, headquartered in the Washington, D.C., area. For more than 50 years, the ENSCO group of companies has been providing leading-edge engineering, science and advanced technology solutions to governments and private industries worldwide. ENSCO operates in the aerospace, national security, surface transportation and cybersecurity sectors and focuses on technologies, products and services to support the safety, security, reliability and efficiency of customer missions. Field offices and subsidiaries, representatives and partnerships are located throughout the United States and around the world. Learn more about ENSCO