Back to All Press Releases
Springfield, Va., Aug. 18, 2021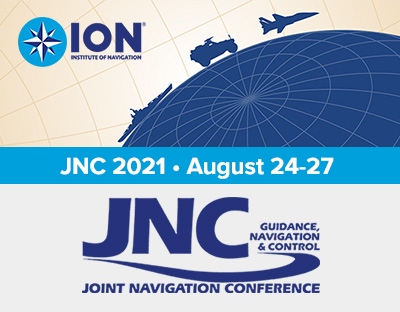 ENSCO will participate in the Institute of Navigation (ION) 2021 Joint Navigation Conference (JNC), Aug. 24-27 at the Northern Kentucky Convention Center in Covington, Kentucky. The Military Division of ION will host JNC 2021 for the Department of Defense and Department of Homeland Security. The theme of this year's conference is Enhancing Dominance and Resilience for Warfighting and Homeland Security PNT.
ENSCO will present its expertise and experience in applying Machine Learning (ML) and Artificial Intelligence (AI) to address the challenges of conducting complex military missions in GPS-denied or otherwise compromised navigation warfare (NAVWAR) environments. ENSCO Assured-Positioning, Navigation, and Timing (A-PNT) technologies are based on machine learning, patented Timing, Communications and Ranging (TCR) IP core measurements, and advanced sensing to augment GPS while addressing a wide range of mission-critical challenges associated with NAVWAR situations. Abstracts include:
"A Modular Machine Learning Software Application for GPS Integrity Monitoring" by Wilbur Myrick, Brian Sexton, W. Todd Faulkner, Daniel T. Goff and Stanley Radzevicius, ENSCO, Inc.; and Joseph Stevanak, US Army CCDC C5ISR on August 25.
 
"Machine Learning based GPS Authentication for PNT Open Systems Architecture" by Stanley Radzevicius, Wilbur Myrick, and Brian Sexton, ENSCO, Inc. on August 26.
 
"Wireless Time and Frequency Clock Synchronization Technology for Software Defined Radios" by Wilbur Myrick, Brian Sexton, W. Todd Faulkner, Daniel T. Goff, ENSCO, Inc.; and Olukayode K. Okusaga, JHU APL on August 25.
ENSCO Chief Engineer, Dr. Wil Myrick, will be in Booth 102 to discuss ENSCO's capabilities in A-PNT and how to leverage AI/ML for resiliency and situational awareness in NAVWAR environments. Information about our latest PNT related AI/ML solutions as well as our Coherent Link Technology (CLT) for distributed transmission systems operating in GPS denied environments will be discussed.
"ENSCO is pleased to participate in JNC 2021," states Boris Nejikovsky, President of ENSCO, Inc. "The conference offers us an opportunity to share the advances we are making in Positioning, Navigation and Timing technology, as well as Artificial Intelligence and Machine Learning, and how they offer viable solutions to challenges of effective warfare in GPS-denied environments."
JNC is the largest U.S. military Positioning, Navigation and Timing (PNT) conference of the year with joint service and government participation. The event will focus on technical advances in PNT with emphasis on joint development, test and support of affordable PNT systems, logistics and integration. From an operational perspective, the conference will focus on advances in battlefield applications of GPS; critical strengths and weaknesses of field navigation devices; warfighter PNT requirements and solutions; and navigation warfare.
About ENSCO, Inc.
ENSCO, Inc., and its wholly owned subsidiaries represent a $140 million international technology enterprise, headquartered in the Washington, D.C., area. For more than 50 years, the ENSCO group of companies has been providing leading-edge engineering, science and advanced technology solutions to governments and private industries worldwide. ENSCO operates in the aerospace, national security, surface transportation and cybersecurity sectors and focuses on technologies, products and services to support the safety, security, reliability and efficiency of customer missions. Field offices and subsidiaries, representatives and partnerships are located throughout the United States and around the world. Learn more about ENSCO.