Back to All Press Releases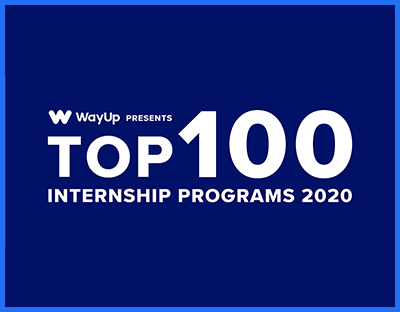 Springfield, Va., September 2, 2020
ENSCO is proud to announce it was selected for the 2020 WayUp Top 100 Internship Programs List.
The winners were selected based on a public vote, as well as an esteemed panel of human resource and workplace experts, who considered everything from public votes to how internships adapted to this year's conditions.
WayUp cited several characteristics of the ENSCO internship program that stood out: ENSCO's interns are eligible for the company 401(k) program, and present a final capstone project to senior management and peers.
This year, ENSCO had 23 interns representing 16 colleges and universities and nine areas of study. They worked in locations throughout the country in both technical and corporate business divisions.
"I am proud that in spite of the pandemic this year our internship program is larger and more robust than ever," states ENSCO President Boris Nejikovsky. "Our interns get the opportunity to work on projects that have a real impact in areas of critical national importance, including defense, aerospace and transportation. Their skills, capabilities and ideas help us deliver innovative solutions to our customers' missions."
ENSCO, INC.
ENSCO, Inc., and its wholly owned subsidiaries represent a $140 million international technology enterprise, headquartered in the Washington, D.C., area. For more than 50 years, the ENSCO group of companies has been providing engineering, science and advanced technology solutions that guarantee mission success, safety and security to governments and private industries worldwide. ENSCO operates in the defense, transportation, aerospace and intelligence sectors. Field offices and subsidiaries, representatives and partnerships are located throughout the United States and around the world. Learn more about ENSCO