Back to All Press Releases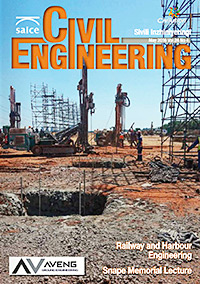 Falls Church, Va. June 13, 2016
The South African Institute of Civil Engineering (SAICE) magazine recently published an article written by Matthew Dick and Jackie van der Westhuizen titled, "Vehicle/Track Interaction: Continuous real-time autonomous condition monitoring to effectively manage 'state of good repair.'''
The definitive five-page article, published in the May 2016 issue, presents the increasing use of autonomous track inspection vehicles, and the role of vehicle/track interaction (VT/I) diagnostic equipment to determine the "state of good repair," i.e., identifying and prioritizing potential failures before they occur.
Dick and van der Westhuizen describe in detail how ENSCO's VT/I autonomous systems, in use for more than 15 years, provide near real-time detection of vehicle events caused by track condition risks to improve track safety and enable proactive maintenance planning. The VT/I system is in wide use in the U.S., Canada, Mexico, and Australia.
To read the complete article, click to download a PDF version or visit SAICE's online magazine.
ENSCO Rail, Inc.
A wholly owned subsidiary of ENSCO, Inc.
For more than 45 years, ENSCO has been leading the rail industry worldwide in developing new and advanced technologies to improve the safety, security and quality of their operations. ENSCO is a leading provider of automated and autonomous inspection systems, web-based data management systems, vehicle dynamics analysis and simulations, and large-scale systems integration for federal and commercial railways. The ENSCO name represents the rail industry's premier source for track inspection, vehicle/track interaction monitoring, railroad asset management technology, and PTC/train control inspection and services. The ENSCO Rail subsidiary provides the products and services to commercial customers. Learn more