Back to All Press Releases
Springfield, Va. Sept. 12, 2018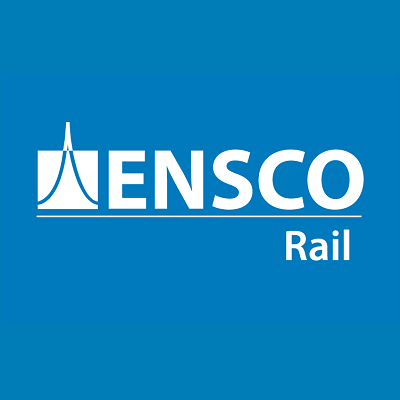 ENSCO Rail, a leading global supplier of track measuring and evaluation systems that help passenger and freight railways improve operations, will be exhibiting at the American Railway Engineering and Maintenance-of-Way Association (AREMA) 2018 Annual Conference and Exposition in the Hilton Chicago, Sept. 16-19.
The latest advances from ENSCO Rail in track inspection, including autonomous inspection systems, automated machine vision inspection, and automated maintenance planning tools that provide the most efficient means to monitor railway infrastructure condition and plan track maintenance, will be detailed and demonstrated in Booth 416.
"ENSCO Rail has a long history of leading the rail industry in developing new, advanced technologies for railway inspection, safety assurance, and maintenance planning," said Boris Nejikovsky, President, ENSCO and ENSCO Rail. "Participating in AREMA allows us to demonstrate our capabilities and the technical advances we've made to our products and services through innovative research and development, and strong customer relationships."
The following papers will be presented by ENSCO subject matter experts and associates at the 2018 AREMA Annual Conference, during the Technical Sessions.
Operation under Fouled Ballast Waiver—Radim Bruzek, ENSCO; Hugh Thompson, Federal Railroad Administration, Office of Research Development and Technology; and Robert Banister, BNSF Railway, Monday, Sept. 17, 12:30 p.m.
Quantifying Rail Surface Damage Using Machine Vision—Matthew G. Dick, PE, ENSCO Rail, Tuesday, Sept. 18, 2 p.m.
Principles of Degraded Ballast and Their Track Safety Implications—Steven M. Chrismer, PE, ENSCO; and James Hyslip, Ph.D., PE, HyGround/Loram, Tuesday, Sept. 18, 2 p.m.
Asset Care Analytics: Predictive Condition Based Track Asset Management Planning Using Track Geometry and Rail Wear Condition Data—Rafael Maldonado, ENSCO Rail, Wednesday, Sept. 19, 9:45 a.m.
The AREMA Conference and Exposition boasts the largest audience within the railway engineering industry and is a premiere event for the exchange of knowledge, technical expertise, and the latest in technical advances in the railroad industry.
ENSCO Rail, Inc.
For nearly 50 years, ENSCO has been leading the rail industry worldwide in developing new and advanced technologies to improve the safety, security and quality of their operations. ENSCO is a leading provider of automated and autonomous inspection systems, web-based data management systems, vehicle dynamics analysis and simulations, and large-scale systems integration for federal and commercial railways. The ENSCO name represents the rail industry's premier source for track inspection, vehicle/track interaction monitoring, railroad asset management technology, and PTC/train control inspection and services. ENSCO Rail, a wholly owned subsidiary of ENSCO, Inc., provides products and services to commercial customers. Learn more