Back to All Press Releases
Springfield, Va., June 18, 2019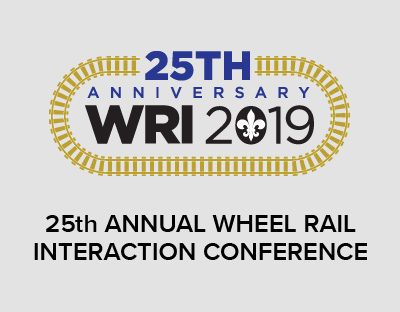 ENSCO Rail is pleased to announce it is a platinum sponsor of the 25th Annual Wheel Rail Interaction (WRI) Conference in New Orleans, June 18-21.
An international leader in advanced technologies for passenger, transit and freight rail markets, ENSCO Rail will be highlighting its Track Condition Monitoring Solutions, with an emphasis on Autonomous Track Condition Monitoring. ENSCO Rail's Bob Coakley will present "Evaluation of Comprehensive Track Inspection Vehicles for Transit Operations" at the Rail Transit Seminar, June 18. In addition, ENSCO Rail's Matthew Dick will present "Vehicle-Track Measurement Technologies" for the Principles Course, June 19.
"We are proud to be sponsoring WRI this year," said ENSCO President Boris Nejikovsky. "As innovators in rail technology, this conference gives us the opportunity to provide an update to the industry on our capabilities and advanced technologies in track measurement, machine vision, autonomous track vision, maintenance planning and vehicle/track interaction analysis."
Since 1994, the rail industry has looked to WRI as a premier venue for railroad education. The Rail Transit Seminar is devoted to examining wheel/rail and vehicle/track interaction on light rail and subway operations. This cross-disciplinary seminar will include presentations from experts in vehicle/track dynamics, noise and vibration, wheel/rail profile design and maintenance and friction management.
ENSCO Rail, Inc.
A wholly owned subsidiary of ENSCO, Inc.
For 50 years, ENSCO has been leading the rail industry worldwide in developing new and advanced technologies to improve the safety, security and quality of their operations. ENSCO is a world-renowned provider of automated and autonomous inspection systems, web-based data management systems, vehicle dynamics analysis and simulations, and large-scale systems integration for federal and commercial railways. The ENSCO name represents the rail industry's premier source for track inspection, vehicle/track interaction monitoring, railroad asset management technology, and PTC/train control inspection and services. The ENSCO Rail subsidiary provides the products and services to commercial customers. Learn more about ENSCO Rail