Back to All Press Releases
Springfield, Va., February 12, 2021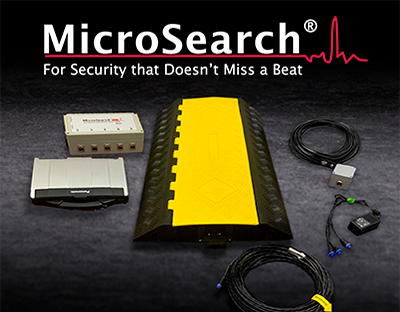 ENSCO is among six companies being sponsored by the Virginia Economic Development Partnership (VEDP) to attend the International Defence Exhibition And Conference (IDEX) in Abu Dhabi, United Arab Emirates, February 21-25, 2021.
ENSCO will introduce its latest Human Presence Detection System (HPDS), MicroSearch® 5.0 for touch-free, contactless detection of humans hiding in vehicles or containers. The MicroSearch system has been used worldwide for vehicle and container inspections at correctional facilities, border crossings, ferry ports, seaports and high-value facilities. In response to customer operational requirements, ENSCO has developed a new HPDS that features a contactless Standoff Vehicle Sensor (SVS) to MicroSearch, offering even greater portability, flexibility and safety during inspections.
IDEX is the only international defense exhibition and conference in the MENA region demonstrating the latest technology across land, sea and air sectors of defense. It is a unique platform to establish and strengthen relationships with government departments, businesses and armed forces throughout the region.
"Being among over 1,100 exhibitors at IDEX, with the support of VEDP, has come at a beneficial time for ENSCO," states ENSCO President Boris Nejikovsky. "MicroSearch has distinguished itself among its market. IDEX will allow MicroSearch further market expansion on the global stage."
About ENSCO, Inc.
ENSCO, Inc., and its wholly owned subsidiaries represent a $140 million international technology enterprise, headquartered in the Washington, D.C., area. For more than 50 years, the ENSCO group of companies has been providing engineering, science and advanced technology solutions that guarantee mission success, safety and security to governments and private industries worldwide. ENSCO operates in the aerospace, avionics, national security, rail and cybersecurity sectors. Field offices and subsidiaries, representatives and partnerships are located throughout the United States and around the world. Learn more about ENSCO
About the Virginia Economic Development Partnership
The Virginia Economic Development Partnership was created by the Virginia General Assembly in 1995 to encourage, stimulate, and support the development and expansion of the economy of the Commonwealth. To accomplish its objectives of promoting economic expansion within the Commonwealth, the Partnership focuses its efforts on business recruitment, expansion and international trade development.