Back to All Press Releases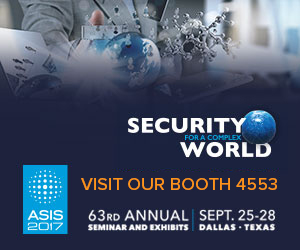 Showcasing the latest technology and expertise in national security products and services
Falls Church, Va., September 20, 2017
ENSCO, Inc., a leader in national security products and services, will be participating in ASIS 2017. The event takes place in Dallas, Sept 26-28.
ENSCO will be exhibiting in Booth 4553 and showcasing technology and expertise in CBRN warning and protection systems, critical infrastructure protection, and human presence detection. In the booth, ENSCO will highlight the following technologies and live demonstrations:
SENTRY: A powerful, proven, enterprise-wide, sensor and camera integration system for building, campus and border security.
SenseNet: A real-time bio-threat awareness system that reduces the potential impact of an incident by providing a fast, low-cost, reliable detection and identification of a biological agent release.
MicroSearch®: A one-of-a-kind security inspection system that detects human beings by sensing the vibrations caused by the human heartbeat hiding in vehicles or containers loaded on vehicles. There will be a live demonstration of MicroSearch in the booth.
Exhibit hours at the Kay Bailey Hutchison Convention Center are Tuesday, Sept. 26, 10 a.m.–5:30 p.m.; Wed., Sept. 27, 10 a.m.–5:30 p.m.; and Thurs., Sept. 28, 10 a.m.–1 p.m.
For more than six decades, ASIS has been the premier event for security professionals worldwide, providing industry-leading education, countless business connections, and the latest products and services. ASIS 2017 is expected to draw more than 22,000 security professionals and will offer attendees the opportunity to connect with solutions providers showcasing the latest industry innovations and services.
About ENSCO, Inc.
ENSCO, Inc., and its wholly owned subsidiaries represent a $100 million international technology enterprise, headquartered in the Washington, D.C., area. For almost 50 years, the ENSCO group of companies has been providing ingenious engineering, scientific and advanced technology solutions that guarantee mission success, safety and security to governments and private industries around the world. ENSCO operates in the defense, transportation, aerospace and intelligence sectors. Field offices and subsidiaries, representatives and partnerships are located throughout the United States and the world. Learn more