Back to All Press Releases
Springfield, Va., July 19, 2022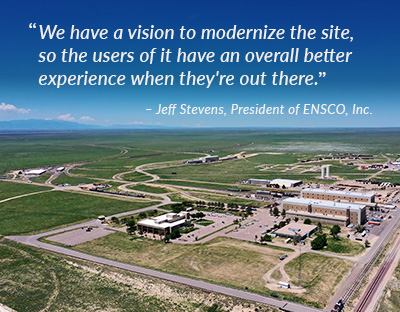 ENSCO was featured in the digital July edition of the International Railway Journal in an article discussing ENSCO's five-year plan to manage the Transportation Technology Center (TTC) in Pueblo, Colorado. The magazine interviewed ENSCO's new president Jeff Stevens for the article.
The article, "ENSCO embarks on new era at TTC," outlined ENSCO's five-year contract to manage the TTC, which is owned by the Federal Railroad Administration (FRA). ENSCO was announced to be the recipient of the TTC care, custody, and control contract in March of 2021, with options for three 5-year extensions.
The article says, "TTC consists of more than 80km of railway test tracks and specialized laboratories for testing locomotives, vehicles, track components, and communication and signaling devices… Under its contract, ENSCO is responsible for maintaining the Site Modernization Plan, a five-year plan for the facility which is updated annually."
Stevens said, "Our role will be to support the government, particularly the FRA and the railways, to conduct the research and the science needed to evolve their regulations and standards, which naturally helps to get technology into the industry."
In the article Stevens said that ENSCO's primary focus as a technology company is on instrumentation and testing, and that ENSCO has partnered with the FRA for nearly five decades. The article states, "during the tendering process, ENSCO brought in experts on facilities management to bolster its expertise in this area as part of a wider partnership strategy." Stevens said that the contract ultimately "was an opportunity to expand our business and to continue the long-standing collaboration we have with the FRA."
ENSCO's involvement at TTC will include constructing a new emergency response training center for emergency first responders and industrial workers, and a new federal training facility with multi-week training courses on cybersecurity.
One continuing practice in ENSCO's contract, which Stevens pointed out, is that there is no required disclosure of proprietary data, and the confidentiality of all testing information generated by users of the site is fully protected.
Stevens said, "This has been a cornerstone of our business for 45 years, and it will continue to be going forward… the federal clients and the commercial clients are expecting us to be ready, and that's our main goal, and we are on track to do it."
The full article is available for International Railways Journal Subscribers:
ENSCO embarks on new era at TTC - International Railway Journal (railjournal.com)
 
About the International Railway Journal
First published in 1960, the IRJ was the world's first globally distributed magazine for the railway industry. The magazine covers a range of rail-related content, including passenger, freight, high-speed, metro, and light rail. Regular subject matters include financial news, fleet orders, infrastructure, new technologies, and government policy. IRJ publishes regular content on its website and a monthly print edition, which had a circulation of over 10k copies in 2020.
About ENSCO, Inc.
ENSCO, Inc., and its wholly owned subsidiaries, represent a $140 million international technology enterprise, headquartered in the Washington, D.C., area. For more than 50 years, the ENSCO group of companies has been providing leading-edge engineering, science and advanced technology solutions to governments and private industries worldwide. ENSCO operates in the aerospace, national security, surface transportation and cybersecurity sectors and focuses on technologies, products and services to support the safety, security, reliability and efficiency of customer missions. Field offices and subsidiaries, representatives and partnerships are located throughout the United States and around the world. Learn more about ENSCO. Learn more about ENSCO