Back to All Press Releases
Springfield, Va., March 5, 2019
ENSCO, Inc., a provider of advanced national security solutions, is a "Gold Sponsor" for the 2019 Joint Civil & DOD CBRN Symposium, March 6-7, in Alexandria, Va.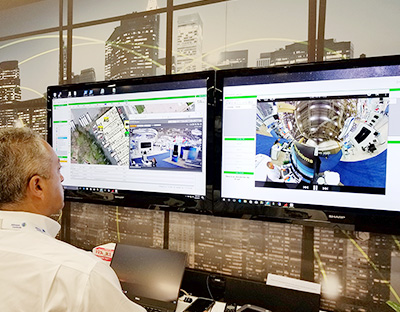 ENSCO will exhibit its commercial CBRN (Chemical, Biological, Radiological, and Nuclear) cloud-based SenseGuard™ software application in Booth 24. SenseGuard provides unparalleled situational awareness across all threat environments by consolidating CBRN/CWMD (Countering Weapons of Mass Destruction) and alarm data into one system that is accessible over the internet to authorized users, including users with mobile devices.
The symposium affords an invaluable chance for ENSCO to showcase its advances in security solutions and allows the national CBRN security industry professionals to interact with ENSCO's subject matter experts. Steve Holleque, ENSCO's CWMD subject matter expert, will be available to answer questions about SenseGuard. Additionally, one of ENSCO's CBRN lead engineers, Shawn Rottman, will present a tech talk titled "Making Sense of Sensors: Enhancing Detection Through Machine Learning, Data Fusion, and AI," March 6, at 2:05 p.m.
"ENSCO is focused on providing technology and expertise to improve monitoring and detection of CBRN and WMD events and to mitigate the effects of these events on both military and civilian populations," said President Boris Nejikovsky. "Showcasing our CBRN solutions at this symposium demonstrates ENSCO's commitment and dedication to Countering Weapons of Mass Distraction and ensuring the security of our nation."
The 2019 Joint Civil & DOD CBRN Symposium will provide a forum for members of the DOD, federal government, state and local government, private industry, academia, and other relevant CBRN stakeholders to discuss the latest updates in advancing a government-wide approach to improving CBRN defense, readiness and response strategies and capabilities.
About ENSCO, Inc.
ENSCO, Inc., and its wholly owned subsidiaries represent a $140 million international technology enterprise, headquartered near Washington, D.C. For 50 years, the ENSCO group of companies has been providing engineering, science and advanced technology solutions that guarantee mission success, safety and security to governments and private industries worldwide. ENSCO operates in the defense, transportation, aerospace, and intelligence sectors. Field offices and subsidiaries, representatives and partnerships are located throughout the United States and the world. Learn more