Back to All Press Releases
Falls Church, Va., July 26, 2018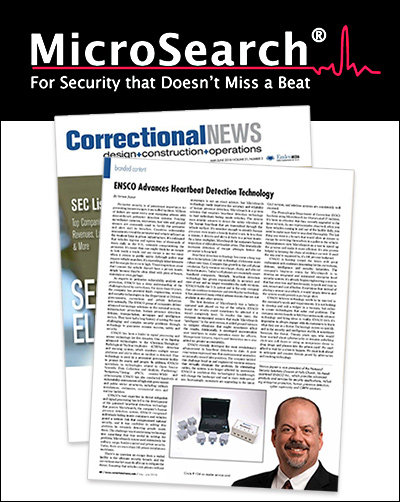 MicroSearch®, the patented human presence detection system from ENSCO, Inc., was featured in both the print and online May-June Issues of Correctional News, a leading corrections industry magazine.
The article, ENSCO Advances Heartbeat Detection Technology under the byline of Vernon Joyner, the National Security Solutions Vice President, outlines the evolution of MicroSearch, its successful reception in the corrections marketplace and the outlook for the future of the product. The article also discusses the deep and broad experience that ENSCO has in the security industry and how MicroSearch fits into the suite of security products and services ENSCO offers.
Founded in 1994, Correctional News is the only news magazine specifically dedicated to correctional facility construction, maintenance and operations. Widely read by facility operators and manager, as well as architects, contractors and suppliers, Correctional News has become a must read business news publication in this unique market.
To view the article, please visit http://viewer.zmags.com/publication/b80b87ab#/b80b87ab/44 or download a PDF.
ENSCO, Inc.
ENSCO, Inc., and its wholly owned subsidiaries represent a $130 million international technology enterprise, headquartered in the Washington, D.C., area. For almost 50 years, the ENSCO group of companies has been providing engineering, scientific and advanced technology solutions that guarantee mission success, safety and security to governments and private industries worldwide. ENSCO operates in the defense, transportation, aerospace, and intelligence sectors. Field offices and subsidiaries, representatives and partnerships are located throughout the United States and the world. Learn more