Back to All Press Releases
Springfield, VA, May 3, 2023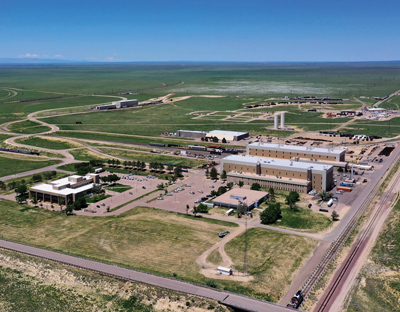 ENSCO Inc., a leader in railway track inspection technology, will be hosting a free webinar targeting various types of research and testing organizations on May 3, 2023, introducing attendees to the large full-scale testing capabilities and partnership opportunities available at the Transportation Technology Center (TTC). Attendees of this webinar will be given a more in-depth look at opportunities for partnership and collaborate for available federal research funding made available to the TTC. The TTC has the unique capabilities for very large full-scale tests including blast, fire, crashworthiness testing, and associated training with additional focus on growing energy sources such as hydrogen and battery.
As of October 2022, ENSCO became the official operator of the U.S. Department of Transportation-Federal Railroad Administration Transportation Technology Center (TTC). At 52 square miles, the TTC is the largest transportation testing facility in the world, providing unique opportunities for research, testing, engineering, training, and workforce development. ENSCO's mission is to expand on these capabilities through partnerships with government and commercial entities looking to improve transportation safety, security, and innovation.
The one-hour webinar will be conducted at two separate sessions on May 3, 2023.
Session 1: 9 a.m. MT
Session 2: 1 p.m. MT
Learn more about the TTC at ttc-ensco.com.
 
About ENSCO
For more than 50 years, ENSCO has led the rail industry worldwide in developing new and advanced technologies to improve the safety, security, and quality of their operations. ENSCO is a trusted provider of track geometry measurement systems along with automated and autonomous inspection systems, web-based data management systems, vehicle dynamics analysis and simulations, and large-scale systems integration projects. ENSCO's engineers have pioneered the use of advanced inspection measurement technology, high resolution imaging technologies, and automation software to ensure railway track safety while increasing operating efficiency and productivity. Learn more about ENSCO.