Back to All Press Releases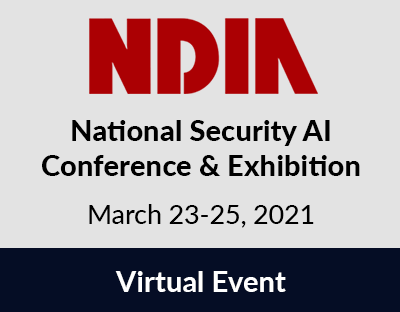 Springfield, Va., March 22, 2021
ENSCO will be participating in the National Defense Industrial Association's (NDIA) virtual event, the National Security AI Conference and Exhibition (NSAICE), March 23-25, 2021.
The NSAICE provides a rare opportunity for defense professionals working with artificial intelligence and machine learning to be part of a conversation that is sure to affect the future of American warfighters' competitive advantage. It features the brand-new AI Capabilities Center where leading innovators and entrepreneurs will showcase their cutting-edge products, ideas, and services.
ENSCO will showcase Machine Learning (ML) applications for detection and classification of signatures from various sensor modalities including RF, seismic and acoustic. These ML algorithms have been implemented on low-SWAP platforms and integrated with state-of-the-art Software Defined Radios (SDRs) and advanced sensing methodologies, allowing ENSCO to rapidly deploy this capability to customers who need accurate and autonomous threat detection or surveillance capabilities.
ENSCO Chief Engineer, Positioning, Navigation and Timing Dr. Wil Myrick was selected to present as part of the AI Capabilities Center (AICC) at 3:10 p.m. on Wednesday, March 24. He plans to present "GNSS Situational Awareness with Machine Learning and COTS Edge Sensing," consisting of a 10-minute prerecorded presentation followed by a 5-minute session of live Q&A.
"Our AI/ML offerings leverage our elite team of experts and our unique blend of more than 50 years of customer mission partnership," states ENSCO President Boris Nejikovsky. "Our participation at NSAICE allows us access to potential partners with the shared goal of advancing AI."
About ENSCO, Inc.
ENSCO, Inc., and its wholly owned subsidiaries represent a $140 million international technology enterprise, headquartered in the Washington, D.C., area. For more than 50 years, the ENSCO group of companies has been providing engineering, science and advanced technology solutions that guarantee mission success, safety and security to governments and private industries worldwide. ENSCO operates in the aerospace, avionics, national security, rail and cybersecurity sectors. Field offices and subsidiaries, representatives and partnerships are located throughout the United States and around the world. Learn more about ENSCO