Back to All Press Releases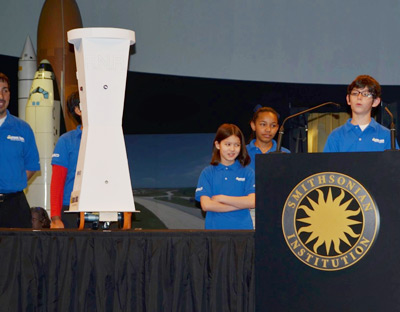 Falls Church, Va., March 15, 2016
For the third year, ENSCO, Inc. is pleased to be a sponsor of the children's Robotics Inventors Club, and new this year, the "Start Your Own Robotics Company," which gives students, age 8 to 13, a new way to immerse themselves in the world of robotics and business. Both programs were created and developed by Infamous Robotics LLC to give students the opportunity to design, engineer, build, test, and ultimately present their robot during National Robotics Week at the Smithsonian National Air and Space Museum in Washington, D. C., in April.
ENSCO, founded in 1969 and headquartered in Falls Church, Va., has its origins in sensors and signal analysis. For almost 50 years, the company has been known for its creation and innovative use of new technologies in railway safety, national security, avionics, aerospace and meteorology. ENSCO provided financial support to the children's robotics program, and additionally, donated four new computers for the students to use in designing and developing their robots. ENSCO is pleased to support this group of future engineers, technologists and scientists.
Teams of students in the Robotics Inventors Club All Stars who are participating in the Start Your Own Robotics Company will design and develop an innovative robot and create a business around that product. Adding to the challenge, the robot must be designed to solve a real world problem, which this year is childhood obesity. The teams will present their robots and pitch their business plan to a panel of distinguished judges, April 18, 9:30 a.m. to 11:30 a.m., at Three Flint Hill, 3201 Jermantown Road, Fairfax, VA 22030.
The Start Your Own Robotics Company was selected to participate in President Obama's new private-sector commitment to further his "Educate to Innovate" campaign to inspire and prepare more girls and boys to excel in the fields of science, technology, engineering, and mathematics (STEM).
"Infamous Robotics LLC has developed advanced curricula to empower students to design, build and prototype their robotic ideas without any kits," states Anthony Nunez, CEO of Infamous Robotics LLC. "We then give them the opportunity to apply the concepts in the Robotics Inventors Club, where they design a robot to solve a real world problem. New this year, we are taking it a step further with teams of the Robotics Inventors Club All Stars presenting their robotic solution to childhood obesity and the associated business in a shark-tank-style competition."
About ENSCO, Inc.
ENSCO, Inc., and its wholly owned subsidiaries represent a $100 million international technology enterprise, headquartered in the Washington, D.C., area. For almost 50 years, the ENSCO group of companies has been providing engineering, science and advanced technology solutions that guarantee mission success, safety and security to governments and private industries worldwide. ENSCO operates in the defense, transportation, aerospace and intelligence sectors. Field offices and subsidiaries, representatives and partnerships are located throughout the United States and around the world. Learn more