Back to All Press Releases
Springfield, Va., May 2, 2019
ENSCO will be participating in and demonstrating MicroSearch® at the 2019 Mock Prison Riot to be held, May 6-8, in Moundsville, W.V.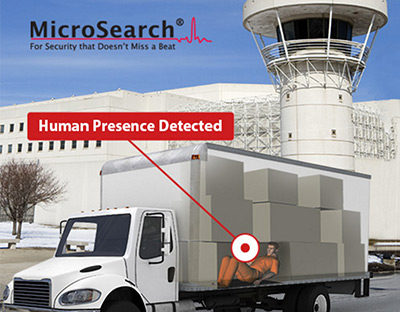 ENSCO will demonstrate MicroSearch, which uses advanced technology to determine if an unauthorized person is hiding in a vehicle or container by detecting the vibrations caused by the person's heartbeat.
MicroSearch is a patented human presence detection system that deters stowaways and escapes by detecting unauthorized individuals hiding in vehicles or containers. Using advanced algorithms, the system quickly and non-invasively detects an unauthorized human presence by sensing their heartbeat. It is ideal for monitoring prison services, prison industries, inmate visitors, and staff vehicles.
Since 2001, MicroSearch has been deployed worldwide in land and sea ports of entry, border crossings, correctional facilities, and high value facilities. Continuously updated and improved, the fourth generation G4.0, uses wireless sensors with the same unparalleled detection capability.
"The Mock Prison Riot is a unique opportunity that brings together technology developers and end users," states ENSCO President Boris Nejikovsky. "ENSCO is pleased with the opportunity to solicit feedback from the individuals who use our MicroSearch technology and introduce the system to others who may be able to benefit from it at their facilities."
Each year, the Mock Prison Riot brings together law enforcement and corrections practitioners to provide feedback to technologies who design the tools they need to safely and effectively do their jobs. The goal of the event is to provide a forum for technology developers and end users to work together to shape the future of tactics and technology for law enforcement and corrections industry on a global scale.
ENSCO, Inc.
ENSCO, Inc., and its wholly owned subsidiaries represent a $140 million international technology enterprise, headquartered near Washington, D.C. For 50 years, the ENSCO group of companies has been providing engineering, science and advanced technology solutions that guarantee mission success, safety and security to governments and private industries worldwide. ENSCO operates in the defense, transportation, aerospace and intelligence sectors. Field offices and subsidiaries, representatives and partnerships are located throughout the United States and the world. Learn more