Back to All Press Releases
Springfield, Va., April 6, 2022
This week marks the beginning of the transition of ENSCO, Inc. to operate and maintain the Transportation Technology Center (TTC) on behalf of the Federal Railroad Administration (FRA). Starting October 2022, ENSCO will be fully operational to provide research and development, testing, engineering and training services at the TTC in Pueblo, Colo.
ENSCO will be supported by a team of leading surface transportation research, training, technology and facilities management organizations focused on next generation technology supporting transportation infrastructure including Ambipar Response USA, Inc., Atkins, EMCOR Government Services, GTI, Sharma & Associates, and the University of South Florida Center for Urban Transportation Research (CUTR). This team will be supported by the Center for Surface Transportation Testing and Academic Research (C-STTAR) consortium of eight universities and academic research centers, led by CUTR. C-STTAR was established by ENSCO to provide expertise in research focus areas across all modes of surface transportation, including intermodal transportation, which will support TTC growth initiatives. Additional laboratory support to the site will be provide by ESi and CTL Group.
Last spring, ENSCO was awarded a $571 million USD contract to provide research and development, testing, engineering and training services at the TTC in support of the FRA's goal of establishing the TTC as a center for rail and ground transportation innovation. ENSCO will operate and maintain the TTC in support of the U.S. Department of Transportation (DOT) to develop a vibrant, engaging and modern TTC that fosters innovation, encourages positive change, and creates opportunity. ENSCO will also expand the use of the facility to support other government and commercial entities to achieve the broader mission of transportation safety, security and innovation in key areas such as automation, connectivity, cybersecurity, work force development and climate resilience. The contract term includes a five-year base period and three, five-year option periods for a total of 20 years from award date. To learn more about ENSCO's support of the TTC, visit ttc-ensco.com.
"ENSCO looks forward to supporting FRA's vision for the Transportation Technology Center," states Boris Nejikovsky, President, ENSCO, Inc. "We have assembled an incredible team of industry and university research, safety, technology, testing and training entities to serve the needs of FRA, USDOT and the surface transportation industry. We are excited to support the many site stakeholders to continue the important railroad research occurring at the center today and to expand the capabilities of the site to other modes of transportation with this robust team. ENSCO also looks forward to supporting the local Pueblo, Colo., economy by partnering with local leadership, universities and business, attracting visitors who participate in site activities and recruiting top technical talent to the area."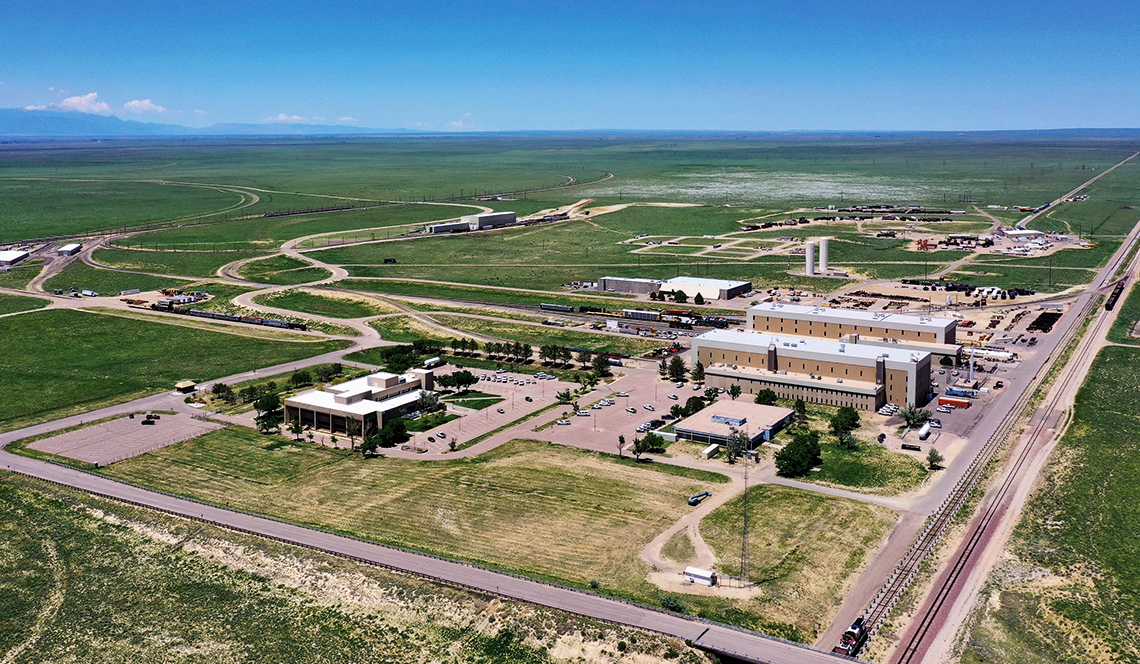 About ENSCO, Inc.
ENSCO, Inc., and its wholly owned subsidiaries, represent a $140 million international technology enterprise, headquartered in the Washington, D.C., area. For more than 50 years, the ENSCO group of companies has been providing leading-edge engineering, science and advanced technology solutions to governments and private industries worldwide. ENSCO operates in the aerospace, national security, surface transportation and cybersecurity sectors and focuses on technologies, products and services to support the safety, security, reliability and efficiency of customer missions. Field offices and subsidiaries, representatives and partnerships are located throughout the United States and around the world. Learn more about ENSCO