Back to All Press Releases
Falls Church, Va., February 22, 2016
SVS Core 2.0 revolutionizes 3-D avionics' display solutions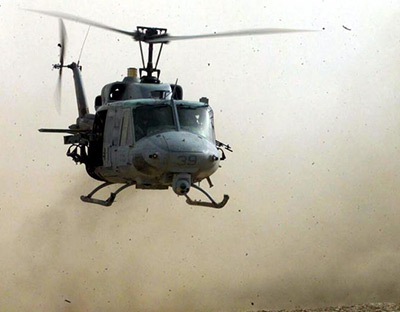 Operating in a Degraded Visual Environment (DVE) presents a major challenge to both military and civilian helicopter aircrews. Any aircraft that must use an unprepared landing area or operate in poor visibility conditions can experience DVE. Although military operations are driving the research for a solution, civilian search and rescue, medivac, or helicopters that transport passengers to remote locations are just as likely to experience these conditions. Brownout, whiteout, or similar obscuring conditions can occur when maneuvering over or landing in sandy, dusty, snowy, or sea environments as the rotor downwash raises dense clouds of airborne particles.
For more than a decade, ENSCO Avionics has been revolutionizing 3-D avionics' display solutions with its SVS Core 2.0. This DVE application, originally developed as a research and development program with Lockheed Martin, is now available as a commercial product.
ENSCO Avionics' DVE solution achieves increased situational awareness for flight crews in both brownout and whiteout conditions. The DVE solution enables crew to maintain situational awareness during reduced visibility by creating a sunny day image in all weather conditions and situations. Compatible with any avionics systems, the software-only application enables avionics system providers to achieve a tailored solution at a fraction of the cost of internal development.
"ENSCO Avionics' DVE solution is unique," says Neil Fifield, Vice President of ENSCO Avionics. "Because it is software-based, hardware purchases are avoided, and the solutions can be integrated into and tailored to any existing system, leveraging current capabilities and reducing cycle time and development cost."
Like all products in ENSCO Avionics' synthetic vision product line, the DVE solution is based on ENSCO Avionics' SVS Core 2.0 architecture. The SVS Core product supports all the capabilities expected of an SVS application, but also can be easily integrated into any system platform and tailored to the specific mission of the customer. Relying on the 3-D image rendering technology pioneered for its SVS Core architecture, ENSCO Avionics added functionality to create a DVE solution that effectively achieves increased situational awareness for pilots and flight crew.
ENSCO Avionics, Inc.
For three decades, ENSCO Avionics has offered advanced sophisticated airborne systems through safety- and mission-critical software and programmable hardware engineering solutions, tailored synthetic vision systems, and the IData® Tool Suite to the aerospace industry with specific focus on DO-178C, DO-254, DO-278A, and military standards. ENSCO Avionics, based in Endicott, N.Y., is a wholly owned subsidiary of ENSCO, Inc.