Back to All Press Releases
Falls Church, Va., March 28, 2017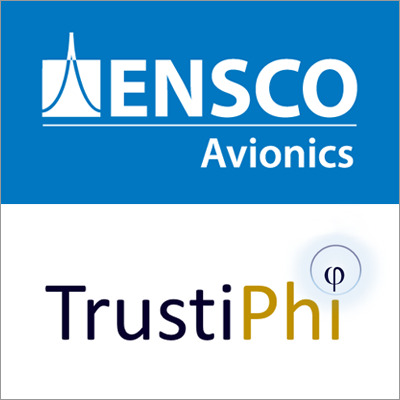 ENSCO Avionics, Inc., a leader in the development of safety-critical avionics solutions, and TrustiPhi, LLC, industry experts in trusted computing and hardware-based embedded security design, today announced a technology alliance to offer DO-326A security solutions to the aerospace industry. This close working relationship leverages the more than 30 years of ENSCO systems and software development, verification and certification expertise, with TrustiPhi's innovative approaches to security technology integration in next-generation computing products.
The goal of this collaboration is to provide services to help aerospace and defense companies design and validate security architectures, enhance device security, and build security-enabled products. Through a careful evaluation of system security needs, the ENSCO and TrustiPhi team will support the design of cost-effective security enhancements to enable the rapid development of secure airborne systems with built-in protections from system security threats.
Services offered under this alliance include:
DO-326A system security gap analysis
DO-326A security requirements guidance
Security risk assessment and threat analysis
Chip-level, system-level, and platform-level security architecture and design
Secure avionics software and firmware design and development
Security design verification and validation support
"As aircraft become more connected, the threats and vulnerabilities to avionics systems grow, resulting in security design becoming essential," said Jay Ficarro, Director of Avionics Solutions, ENSCO. "By leveraging our avionics engineering background with TrustiPhi's trusted computing and embedded security design expertise, we will enable our clients to safely develop and protect their avionics systems and subsystems in a manner that doesn't impact performance or reliability."
"E-enabled aircraft provide many benefits to both operators and passengers, but the development of these open systems must be done with DO-326A compliance in mind," said Andy VanDamia, Vice President of Product Development, TrustiPhi. "Our relationship with ENSCO will help companies develop and tailor these systems with security protections, while not adding a heavy burden to product development costs and schedules."
About ENSCO Avionics
For more than 30 years, ENSCO Avionics has developed sophisticated airborne systems for the aerospace industry to meet DO-178C, DO-254, DO-278A, and military standards for manned and unmanned systems. ENSCO Avionics focus is on safety- and mission-critical software and programmable hardware engineering solutions, custom display development, tailored synthetic vision applications, integration test solutions, and the IData® Tool Suite. ENSCO Avionics, based in Endicott, N.Y., is a wholly owned subsidiary of ENSCO, Inc.
About TrustiPhi
TrustiPhi's cross-functional team of senior security specialists, software engineers and product managers have envisioned, architected and developed cyber-attack resilient security products and subsystems for some of the world's leading technology companies, as well as the US government and military for more than 20 years. Founded by established industry experts in trusted computing and hardware-based embedded security design, TrustiPhi offers middleware leveraging hardware-based security technologies and provides product security strategy, design and development services for organizations in a variety of fields including the financial industry, healthcare, government defense systems, critical infrastructure, networking devices, industrial sensors and consumer and business electronics.