Back to All Press Releases
Falls Church, Va., January 18, 2018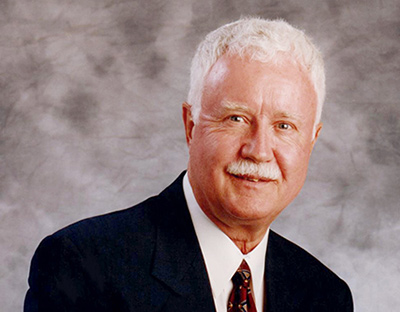 ENSCO, Inc., headquartered in Falls Church, Va., announces the death of ENSCO founder Dr. Paul W. Broome, Jan. 11, 2018.
In March 1969, Dr. Broome incorporated ENSCO. As the first president of ENSCO, Broome saw the company grow from a startup to a thriving enterprise operating in multiple markets and providing technology solutions for many critical missions. In 1982, he stepped away from the daily operations as president, but maintained an active role in the company's strategic direction as CEO and chairman of the board for many years. Despite his retirement as CEO in 1997, Broome remained an influential and guiding presence in the continuing growth and success of ENSCO.
Reflecting on the success of the company in recent years, Broome often pointed to the great minds and top talent ENSCO attracted, citing the skills, experience and passion of its employees as the reason for its success. He once said, "I formed ENSCO as a way to contribute to solving some of the world's problems. I knew advanced technology could make a difference. I wanted a place where self-motivated individuals enjoyed working. In this, it has succeeded."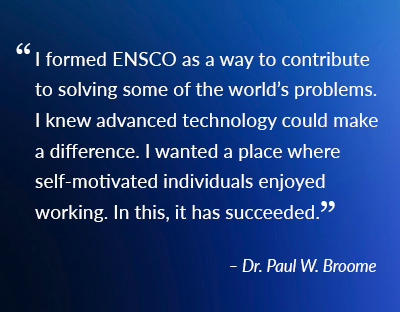 "My family and I are saddened by the sudden loss of our father, husband and grandfather," states Paul W. Broome III, a member of the ENSCO Board of Directors. "We consider ENSCO my father's legacy, and we are committed to the future success of the company and its employees. My father was always passionate and dedicated to the success of ENSCO, and we will endeavor to continue his life's work and what we believe to be his greatest achievement."
"Next year, ENSCO will celebrate its 50th anniversary. From its inception, ENSCO was guided by Dr. Broome's philosophies," states ENSCO President Boris Nejikovsky. "Dr. Broome was passionate about ENSCO; he contributed countless time and effort to build it into a successful and diversified technology company. He has left a legacy that the company will carry on for many years to come."
Dr. Broom had an impressive career and fulfilling life. Always dedicated to the pursuit of technical excellence, Broome spent his years prior to founding ENSCO in a variety of technical roles. From 1958 to 1962, Dr. Broome was a Design Specialist at General Dynamics/Astronautics in San Diego, Calif. He was a member of the senior technical staff of Pan American World Airways, Guided Missile Range Division, Patrick Air Force Base, Fla., from 1962-1964. Just before founding ENSCO, from 1964-1968, he set up and managed the Applied Research Lab of Teledyne, Earth Sciences Division.
Broome was the author or co-author of several technical, engineering, mathematical, and scientific papers.
In 1950, Broome enrolled at the Carnegie Institute of Technology, now Carnegie Mellon University, where he earned a B.S. in electrical engineering, an M.S. in electrical engineering, and a Ph.D. He established the "Dr. Paul Broome, E'54,'55,'60 and ENSCO, Inc. Scholarship Fund" at Carnegie Mellon for children of ENSCO employees and students from West Allegheny High School in Oakdale, Pennsylvania.
Broome was born in Oakdale, Pennsylvania, Jan. 17, 1932. He married Joan Brown, Jan. 19, 1957. They have four children and 11 grandchildren.
About ENSCO, Inc.
ENSCO, Inc., and its wholly owned subsidiaries represent a $100 million international technology enterprise, headquartered in the Washington, D.C., area. For almost 50 years, the ENSCO group of companies has been providing engineering, scientific and advanced technology solutions that guarantee mission success, safety and security to governments and private industries worldwide. ENSCO operates in the defense, transportation, aerospace, and intelligence sectors. Field offices and subsidiaries, representatives and partnerships are located throughout the United States and the world. Learn more