Back to All Press Releases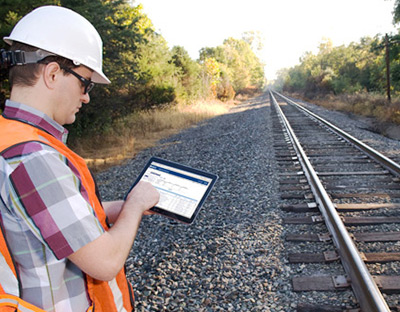 Fall Church, Va., March 21, 2016
ENSCO Rail will be exhibiting its autonomous track inspection, machine vision, track asset management, and track inspection systems and services at the American Short Line and Regional Railroad Association (ASLRRA) 2016 Connections in Booth 738 at the Gaylord National Resort in National Harbor, Md., April 3 to 6.
Visitors to ENSCO Rail's booth will have the opportunity to speak with ENSCO's industry experts and see demonstrations of products, such as the Digital Track Notebook® (DTN). The DTN is a web-based paperless track inspection record keeping system. It is used for maintaining Federal Railroad Association (FRA) and Transport Canada compliance with track inspections and record keeping. Using the DTN is the preferred monitoring system of Canadian Pacific, Genesee & Wyoming, and Kansas City Southern.
More than 45 years of railway engineering experience ensures ENSCO customers will receive the best possible measurement technology and technical support available. ENSCO's track measurement systems are based on a modular approach and scalable architecture to support a variety of measurement and imaging systems on a track recording vehicle, resulting in optimized productivity.
The only expo in America focused specifically on the short line and regional railroad industry, ASLRRA 2016 will showcase top products and services, and feature a rich lineup of expert speakers. Thousands of attendees and hundreds of exhibitors are expected to attend.
ENSCO Rail, Inc.
A wholly owned subsidiary of ENSCO, Inc.
For more than 45 years, ENSCO has been leading the rail industry worldwide in developing new and advanced technologies to improve the safety, security and quality of their operations. ENSCO is a leading provider of automated and autonomous inspection systems, web-based data management systems, vehicle dynamics analysis and simulations, and large-scale systems integration for federal and commercial railways. The ENSCO name represents the rail industry's premier source for track inspection, vehicle/track interaction monitoring, railroad asset management technology, and PTC/train control inspection and services. The ENSCO Rail subsidiary provides the products and services to commercial customers. Learn more