Back to All Press Releases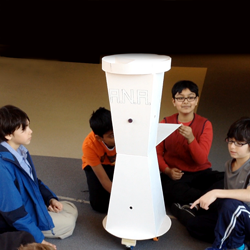 Falls Church, Va., March 2, 2015
The 2015 Robotics Inventors Club, composed of elementary age children, will demonstrate their autonomous robot designed to intelligently navigate hospitals, and bring food and other necessary items to patients with high-risk infectious diseases at the NoVA TechBreakfast Meetup, March 4, 8 a.m. - 10 a.m., at AOL headquarters at Dulles in Sterling, Va.
ENSCO, Inc., an R&D science and technology company, headquartered in Falls Church, Va., and supporter of STEM (Science, Technology, Engineering, and Math) education is a sponsor of the children's club. From idea through concept to prototype, the robot was designed and built by members of the Robotics Inventors Club to solve a real world problem they felt needed to be addressed, i.e., keeping nurses safe from potential exposure to Ebola.
The TechBreakfast is a monthly demo-style event where entrepreneurs, techies, developers, designers, and business people gather to see innovative new technology in a demo format. Meetups are free and open to the public. This month, the "Show and Tell for Adults" includes the children demonstrating their robot, named A.N.A. for Autonomous Nurse Assistant.
The 2015 Robotics Inventors Club is composed of graduates of the Robotics Expansion™ summer camp programs held by Infamous Robotics LLC. The summer programs teach children about STEM fields using real robotics, not prepackaged kits.
About ENSCO
ENSCO, Inc., and its wholly owned subsidiaries represent a $90 million technology enterprise, headquartered in the Washington, D.C., area. For more than 45 years, the ENSCO group of companies has been providing ingenious engineering, science and advanced technology solutions that guarantee mission success, safety and security to governments and private industries around the globe. ENSCO operates in the defense, transportation, aerospace and intelligence sectors. Field offices and subsidiaries, representatives and partnerships are located throughout the United States and around the world. Learn more