Back to All Press Releases
Falls Church, Va., January 24, 2018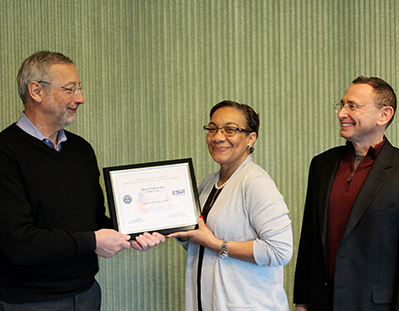 ENSCO is pleased to announce that ENSCO President Boris Nejikovsky was awarded the Service Member Patriot Award from the Employer Support of the Guard and Reserve (ESGR), Jan 16.
Nejikovsky was nominated by ENSCO Chief Strategy and Technology Officer Dr. Scott Goldstein, a brigadier general in the United States Air Force Reserve assigned as the Mobilization Assistant to the Commander of the 24th Air Force and Commander, Air Forces Cyber. Brig. Gen. Goldstein's overseas tour last summer took him from his job at ENSCO for five weeks and included time in a combat zone. He was recently awarded the Legion of Merit for his military accomplishments.
According to ESGR, the Patriot Award is given to individual supervisors and bosses for support provided directly to the nominating service member and his or her family. The Patriot Award reflects the efforts made to support citizen warriors through a wide range of measures, including flexible schedules, time off prior to and after deployment, family support, and leaves of absence if needed.
"Boris supports my service in the Air Force Reserve and leads a company culture that is supportive of all our reservists and veterans," states Goldstein. "Veterans are valuable employees who bring unique and versatile skills to the workplace along with diverse experience. A good percentage of our business is focused on national security, and Boris understands the value of military service. This award shows our appreciation in a way that reflects well on Boris and our ENSCO culture!"
Geambro Hollis, Virginia Area Chair, for ESGR, came to ENSCO headquarters in Falls Church, Va., to present Nejikovsky with the Patriot Award and a lapel pin, Jan 16.
ESGR, a Department of Defense program, was established in 1972 to promote cooperation and understanding between Reserve Component Service members and their civilian employers, and to assist in the resolution of conflicts arising from an employee's military commitment. ESGR has served the country for more than 45 years, fostering a culture in which all employers support and value the employment and military service of members of the National Guard and Reserve in the United States.
About ENSCO, INC.
ENSCO, Inc., and its wholly owned subsidiaries represent a $100 million international technology enterprise, headquartered in the Washington, D.C., area. For almost 50 years, the ENSCO group of companies has been providing engineering, science and advanced technology solutions that guarantee mission success, safety and security to governments and private industries worldwide. ENSCO operates in the defense, transportation, aerospace, and intelligence sectors. Field offices and subsidiaries, representatives and partnerships are located throughout the United States and around the world. Learn more