Back to All Press Releases
Falls Church, Va., April 14, 2015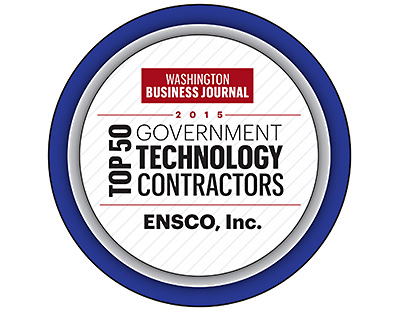 The Washington Business Journal announced its list of 2015 top local government technology contractors, April 3. ENSCO, Inc., headquartered in Falls Church, Va., is pleased to announce its selection as one of the top 50 government technology employers in the greater Washington, D.C., metro area.
Headquartered in Falls Church, Va., with an office in Springfield, Va., as well as smaller offices throughout the area, ENSCO's local focus is on solutions for National Security and Rail Transportation Safety. For more than 45 years, ENSCO has provided technology, engineering and science solutions in the defense, transportation, aerospace and intelligence sectors of the government.
"ENSCO's inclusion in the list of top Washington area government technology contractors confirms the key role our company plays as a provider of innovative technology solutions supporting critical customer missions. Our solutions help our governmental customers make our country safer," Boris Nejikovsky, ENSCO President states.
About ENSCO, Inc.
ENSCO, Inc., and its wholly owned subsidiaries represent a $90 million international technology enterprise, headquartered in the Washington, D.C., area. For more than 45 years, the ENSCO group of companies has been providing ingenious engineering, science and advanced technology solutions that guarantee mission success, safety and security to governments and private industries around the globe. ENSCO operates in the defense, transportation, aerospace and intelligence sectors. Field offices and subsidiaries, representatives and partnerships are located throughout the United States and around the world. Learn more