Back to All Press Releases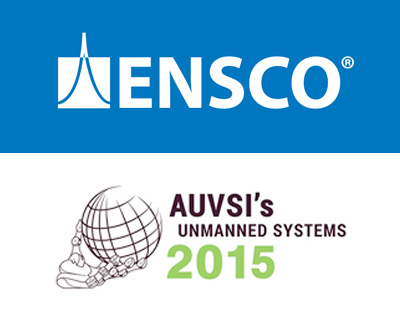 Falls Church, Va., April 21, 2015
ENSCO, Inc. is taking its technical breadth and solid experience in avionics systems engineering, vision systems, embedded graphics, positioning, navigation, and timing (PNT) solutions, and meteorology to the Association for Unmanned Vehicle Systems International (AUVSI) Unmanned Systems 2015 Conference in Atlanta, May 4-7. AUVSI is the largest worldwide event for Unmanned Aircraft Systems (UAS), attracting attendees from government, industry and academia.
Previously used primarily in military operations, the value of UAS to law enforcement, agriculture, disaster evaluation, and other civilian operations has become increasingly evident. ENSCO is well positioned to design, build, certify and support UAS in the National Airspace System based on its experience with the armed forces, the FAA, and national security groups merged with its capabilities in avionics software and flight systems, PNT technology, and weather forecasting.
ENSCO will be showcasing these capabilities at AUVSI Unmanned Systems 2015, including a demonstration of VENOM, a high-fidelity turnkey solution for training UAS pilots and payload operators. Fully configurable to match any UAS platform, sensor payload, and mission, VENOM provides an affordable, fully-tailored modeling and simulation based training capability based on open architecture and commercial off-the-shelf technology.
ENSCO anticipates a large attendance to view their capabilities with Unmanned Aircraft Systems at Booth 1551 at AUVSI.
About ENSCO, Inc.
ENSCO, Inc., and its wholly owned subsidiaries represent a $90 million international technology enterprise, headquartered in the Washington, D.C., area. For more than 45 years, the ENSCO group of companies has been providing ingenious engineering, science and advanced technology solutions that guarantee mission success, safety and security to governments and private industries around the globe. ENSCO operates in the defense, transportation, aerospace and intelligence sectors. Field offices and subsidiaries, representatives and partnerships are located throughout the United States and around the world.