Back to All Press Releases
Falls Church, Va., Aug. 5, 2014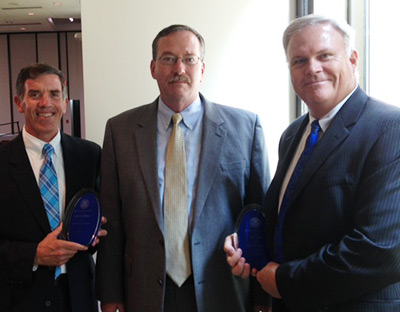 ENSCO announced today that Dale Jones and John Sullivan of its National Security Solutions Division had received the Director's Team Award for Excellence as members of the Securing the Cities Team (STC) initiative with the Domestic Nuclear Detection Office (DNDO) under the Department of Homeland Security. ENSCO's support of DNDO's STC initiative enhances the nation's ability to detect and prevent a radiological or nuclear attack in designated major urban areas.
Director of DNDO Dr. Huban Gowadia personally recognized Jones and Sullivan for their outstanding contributions to the STC endeavor. As part of a larger DNDO team, Jones and Sullivan were instrumental in the development of the assessment plan that covered scope, tasks and the methodology to be used for the Los Angeles/Long Beach STC program. The Los Angeles/Long Beach area was selected as the second STC initiative with New York City being the first.

Sullivan, who retired as a senior member of the United States Secret Service, has been with ENSCO since January 2009. Jones has been with ENSCO since March 2011, following a successful career with the United States Air Force and retiring as a Chief Master Sergeant.

The award is based on the continued exceptional execution of a highly visible and impactful DNDO program that receives significant Congressional attention.
About ENSCO, Inc.
ENSCO, Inc., and its wholly owned subsidiaries represent a $100 million technology enterprise, headquartered in the Washington, D.C., area. For more than four decades, the ENSCO group of companies has been providing ingenious engineering, science and advanced technology solutions that guarantee mission success, safety and security to governments and private industries around the globe. ENSCO operates in the defense, transportation, aerospace and intelligence sectors. Field offices and subsidiaries, representatives and partnerships are located throughout the United States and around the world. Learn more