Back to All Press Releases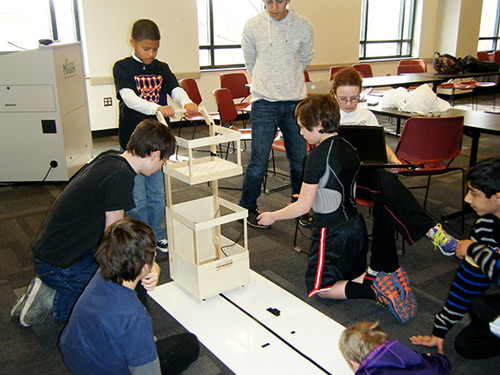 Fall Church, Va., April 1, 2014
The youngest group of children to build an intelligent robot from idea to prototype in eight months will present ARVI (Autonomous Robot for the Visually Impaired) during National Robotics Week in the Smithsonian National Air and Space Museum in Washington, D.C., April 4 and April 5, between 11 a.m. and 2 p.m. ARVI was created by The Robotics Inventors Club™ or The RIC, with sponsorship from ENSCO, Inc., an engineering, science and advanced technology solutions company headquartered in Falls Church, Va.
Watch Video: National Robotics Week kicks off
Click the image below to go to the USA Today website to watch the video (starting at 1:40), featuring the ENSCO-sponsored, RIC children's robotics team.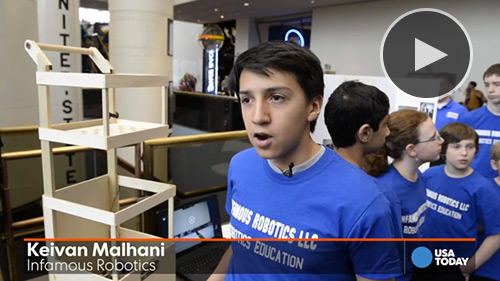 The children, age 8 years to 13 years, wanted to create a robot that would help people in their everyday lives and so conceived the concept for ARVI. The robot, designed to assist the visually impaired, is a cart designed to negotiate the aisles of grocery stores, avoiding obstacles, and with an audible alert to announce where it is in the store. The team plans to give ARVI the capability of speech in the near future.
The RIC team, composed of children from Arlington and Fairfax, Va., is the youngest team and one of only seven teams invited to participate in the demonstrations at the Smithsonian; the other six teams are university teams.
Anthony Nunez, founder and CEO of Infamous Robotics LLC, conducts a summer camp program, "Robotics Engineering Expansion" on the George Mason University campus in Fairfax, Va., for children, age 7 years to 12 years. At the camp, the children learn about the STEAM (Science Technology Engineering Art and Math) fields using real robotics, not prepackaged kits. The RIC team, formed from graduates of the summer program, has to develop their idea for the robot, organize it into manageable sections, build and test the individual sections, then integrate them together as a team and prepare to present and talk about their solution to the public.
Nunez, having participated on ENSCO's 2005 DARPA Grand Challenge team to build an autonomous vehicle, sought ENSCO's support for this project. For 45 years, ENSCO has been developing advanced technology solutions, combining machines and artificial intelligence, for the government and private industry. Known for its dedication to innovation in engineering, science and technology, ENSCO was the ideal partner for the club.
The RIC team will become a part of history as the youngest robotics team to present their fully autonomous robot during National Robotics Week.
About ENSCO, Inc.
ENSCO, Inc., and its wholly owned subsidiaries represent a $100 million technology enterprise, headquartered in the Washington, D.C., area. For more than four decades, the ENSCO group of companies has been providing ingenious engineering, science and advanced technology solutions that guarantee mission success, safety and security to governments and private industries around the globe. We operate in the defense, transportation, aerospace and intelligence sectors. Field offices and subsidiaries, representatives and partnerships are located throughout the United States and around the world. Learn more