Back to All Press Releases
Falls Church, Va., August 7, 2014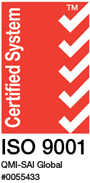 ENSCO Inc. is proud to announce that its rail team successfully passed a re-assessment audit to retain its ISO 9001:2008 certificate of registration.
ENSCO's Advanced Technology and Engineering (ATE) Division and ENSCO Rail, a wholly owned subsidiary, originally attained ISO registration in 2011. The ISO 9001:2008 standard requires that an independent registrar conduct re-assessment audits every three years in order to retain certification. This recent audit examined ATE and ENSCO Rail's business practices and internal technical and management procedures to ensure they meet international quality standards and customer requirements. The audit also examines processes for continuous improvement in customer satisfaction, process control, training, and internal communications.
"External certification of our Quality Management System is an independent validation of ENSCO's commitment to quality," states Dr. Thomas Burns, President and CEO of ENSCO and its subsidiaries. "It provides an invaluable edge in the rail marketplace and offers an accredited approach to deliver quality railway products and services, improve our business processes, and expand our business opportunities, particularly internationally."

For more than 40 years, ENSCO has been leading the rail industry in developing advanced technologies for rail transport. ENSCO technology, products and services help customers improve the quality and efficiency of rail operations.
About ENSCO, Inc.
ENSCO, Inc., and its wholly owned subsidiaries represent a $100 million technology enterprise, headquartered in the Washington, D.C., area. For more than four decades, the ENSCO group of companies has been providing ingenious engineering, science and advanced technology solutions that guarantee mission success, safety and security to governments and private industries around the globe. ENSCO operates in the defense, transportation, aerospace and intelligence sectors. Field offices and subsidiaries, representatives and partnerships are located throughout the United States and around the world. Learn more