Back to All Press Releases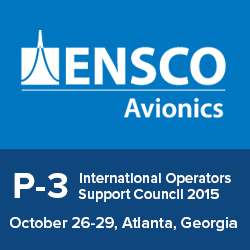 Endicott, N.Y., October 23, 2015
ENSCO Avionics is attending and will be presenting a technical paper at the P-3 International Operators Support Council (P-3 IOSC) in Atlanta, Ga., Oct. 26-29. Noah Baird, ENSCO Avionics' Deputy Chief Engineer, will present a paper titled, "Synthetic Vision Application and Marine Mammal Mitigation Case Study," Wednesday, Oct. 28, at 5:10 p.m.
Baird's paper focuses on a solution that allows operators to better manage the existing workload by allowing operators to visualize the area of interest and increase the probability of detection, while coping with additional NATO-mandated tasking, such as Marine Mammal Mitigation. In addition, the paper presentation will cover key technical considerations for affordably adding a synthetic vision application to the existing avionics system to increase the situational awareness during missions.
Baird has more than 25 years of experience in nearly every aspect of aviation and avionics and served 14 years in the Navy. He is a Subject Matter Expert (SME) in avionics, and his wide-ranging experience includes serving as Lockheed Martin's Lead Navigation Engineer on the Air Force's A-10 Thunderbolt II, Mission Planning Lead for the Navy's MH-60 R/S Seahawks, and Lead Systems Engineer on the Navy's P-3C Orion Tactical Synthetic Vision System.
P-3 IOSC 2015 is the largest conference for P-3 Orion operators and maintainers. Industry leaders will share common concerns and achievements, as well as solve technical, maintenance and sustainment challenges facing the international operator community. P-3 IOSC allows for a collaborative environment where industry partners and operators can discuss specific problems and potential solutions, as well as view the latest products available to maintain and upgrade existing systems.
ENSCO Avionics, Inc.
A wholly owned subsidiary of ENSCO, Inc.
For three decades, ENSCO Avionics has advanced sophisticated airborne systems through our safety/mission-critical software and programmable hardware engineering solutions, tailored synthetic vision systems, the IData® HMI Tool Suite, and a high-performance OpenGL® SC software-based GPU. Our development, test, integration and certification expertise includes DO-178C, DO-254, and military standards. ENSCO Avionics, based in Endicott, N.Y., is a wholly owned subsidiary of ENSCO, Inc.